 Disability Employment Awareness Month (DEAM)
Taking place each October, Disability Employment Awareness Month, or DEAM, is a campaign that promotes inclusion within the job market for people with disabilities. The idea is to raise awareness of the challenges they face in gaining employment, and celebrating the impact and contribution made by workers with disabilities who have been given a chance.
At PDC we are committed to this campaign. We have run visible, impactful programs for the last few years, encouraging businesses who employ workers with disabilities and supporting those looking for employment opportunities. Our varied programs are fun and effective, and DEAM is a month where we can really see the results of our ongoing commitment to disabled workers.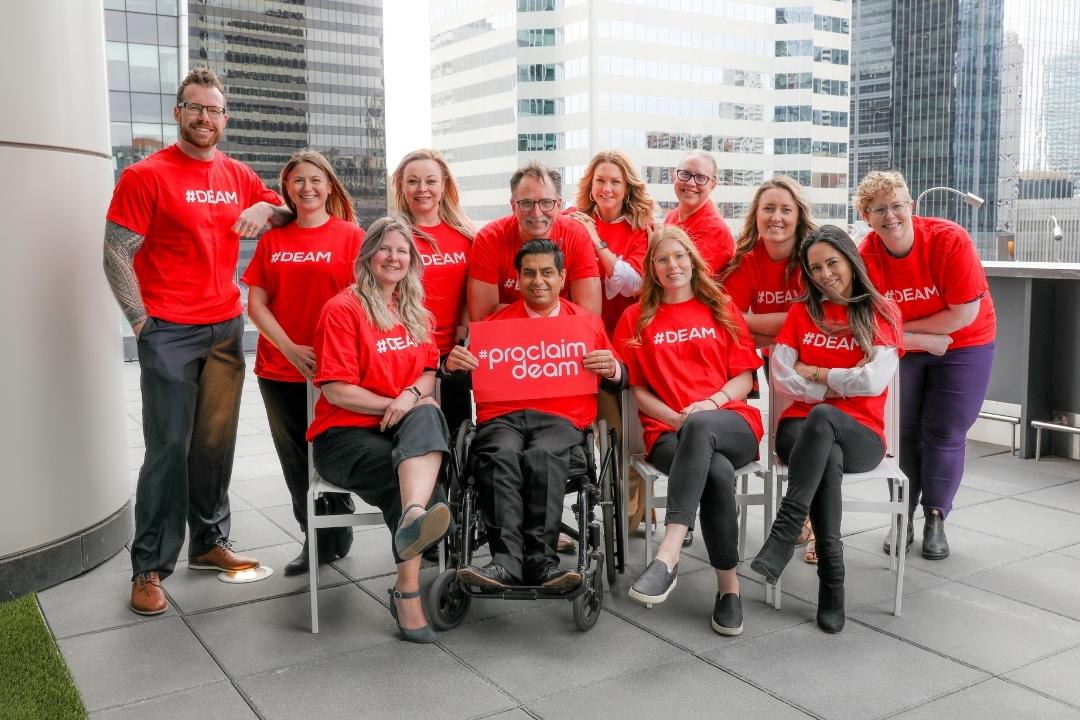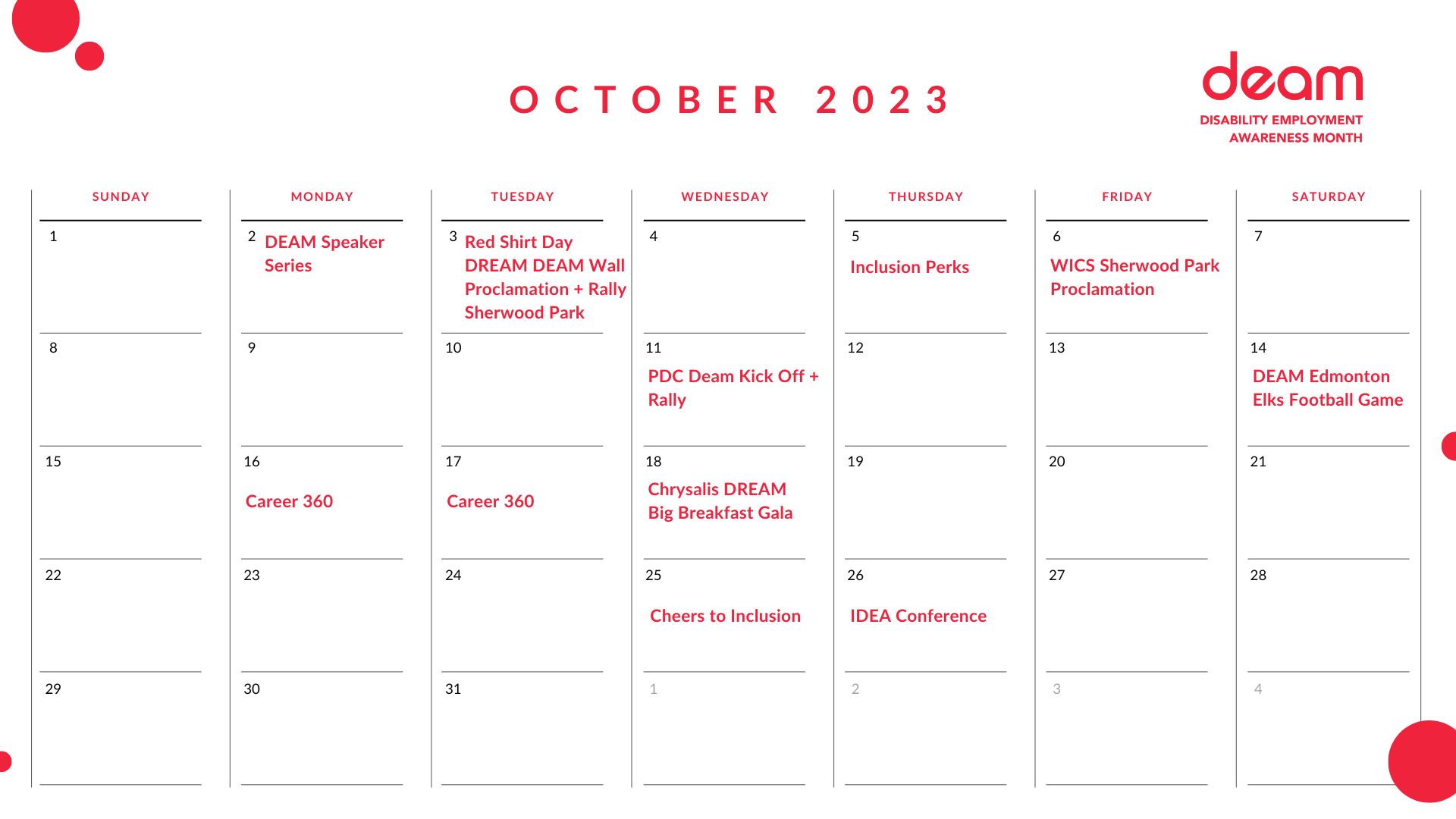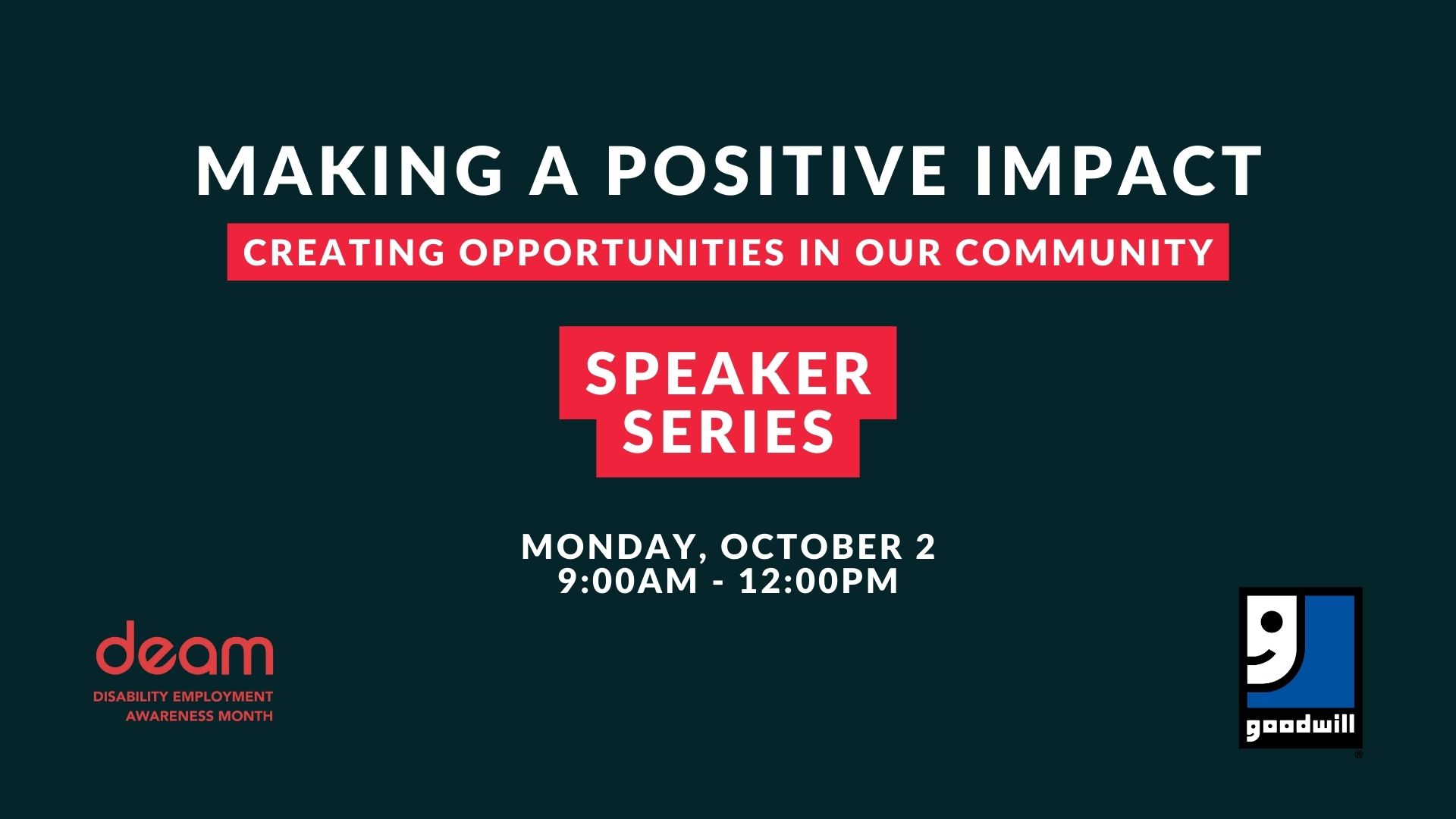 DEAM Speaker Series
October 2, 2023
The event is focused on bringing awareness and inspiration to various business leaders within the city. This is an opportunity to learn, grow and excel in creating a more inclusive and productive workspace.
The event will consist of six different speakers, giving first-hand advice, knowledge and personal journeys, inspiring you to create a better tomorrow.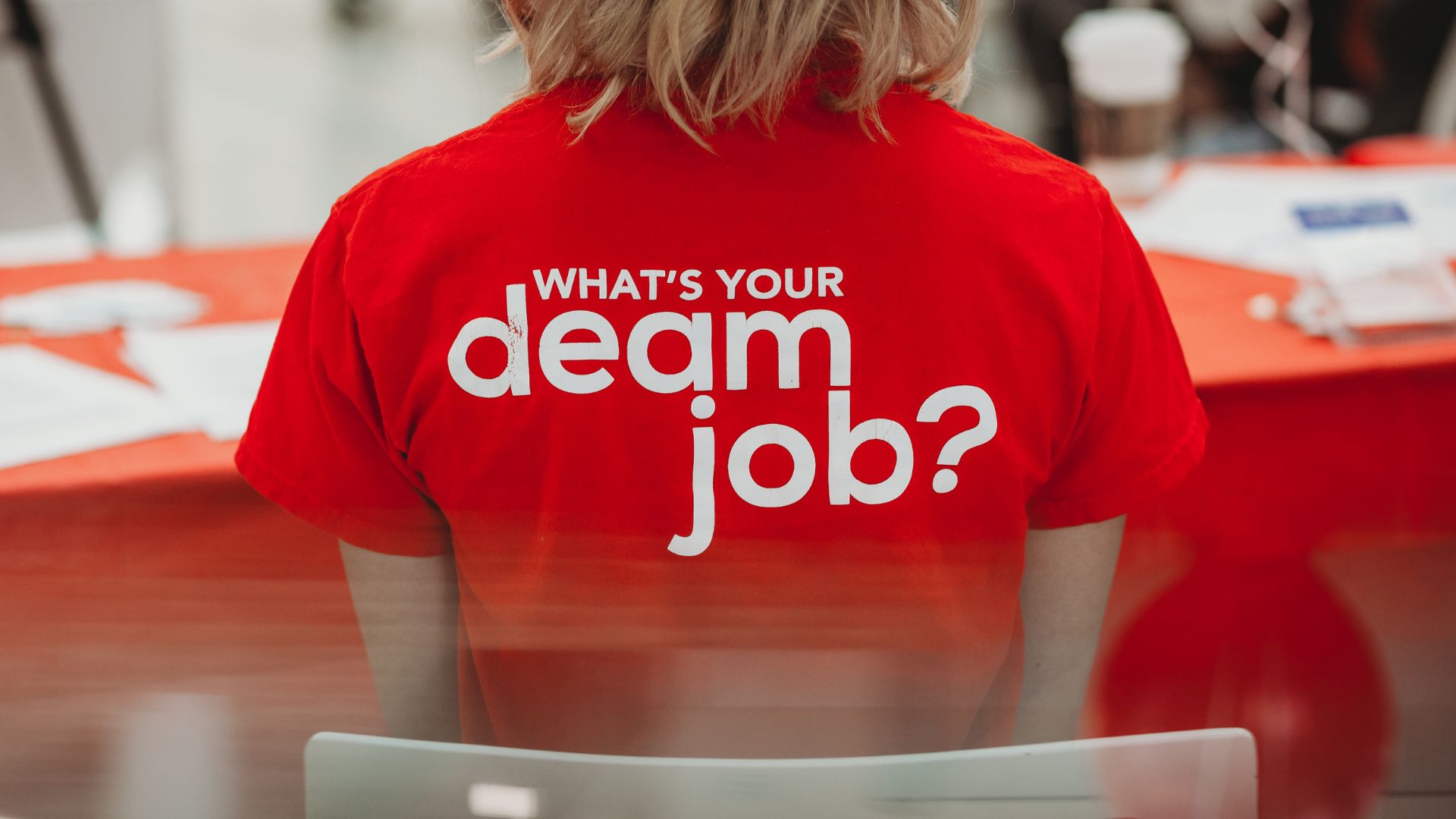 Red Shirt Day
October 3, 2023
everyone is encouraged to wear red! DEAM shirts are available for purchase (first come first serve) at $10 a shirt. Please email [email protected] to place an order.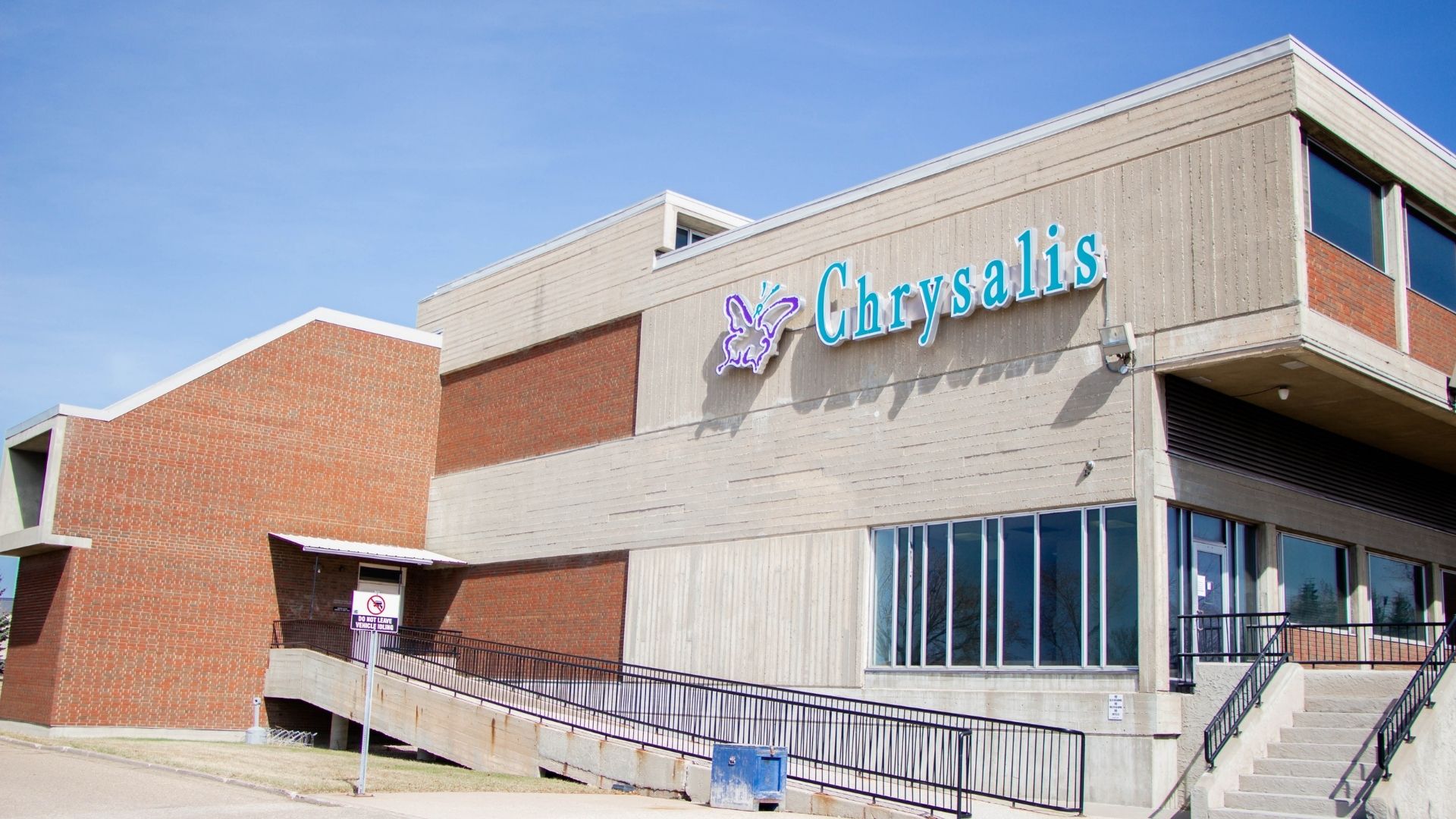 Chrysalis DREAM DEAM Wall Collaboration
October 3, 2023
Join us on October 3rd for an exciting and collaborative event during DEAM Month as we create a "DrEAM Job Wall" where aspirations meet creativity! Whether you're chasing your ultimate career goals or simply dreaming big, this event is the perfect opportunity to share your vision with the world and find inspiration from others.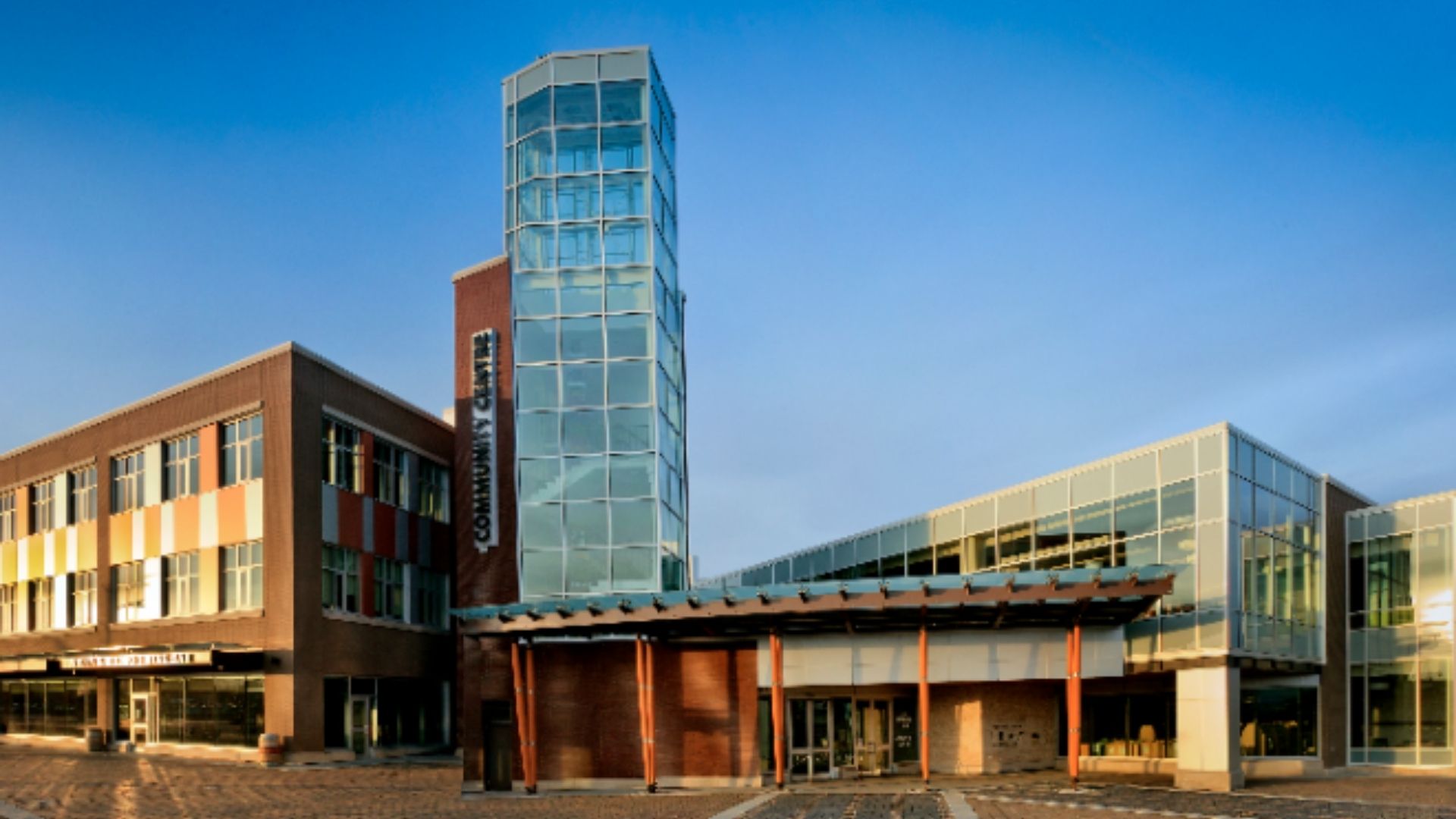 Proclamation + Rally Sherwood Park
October 3, 2023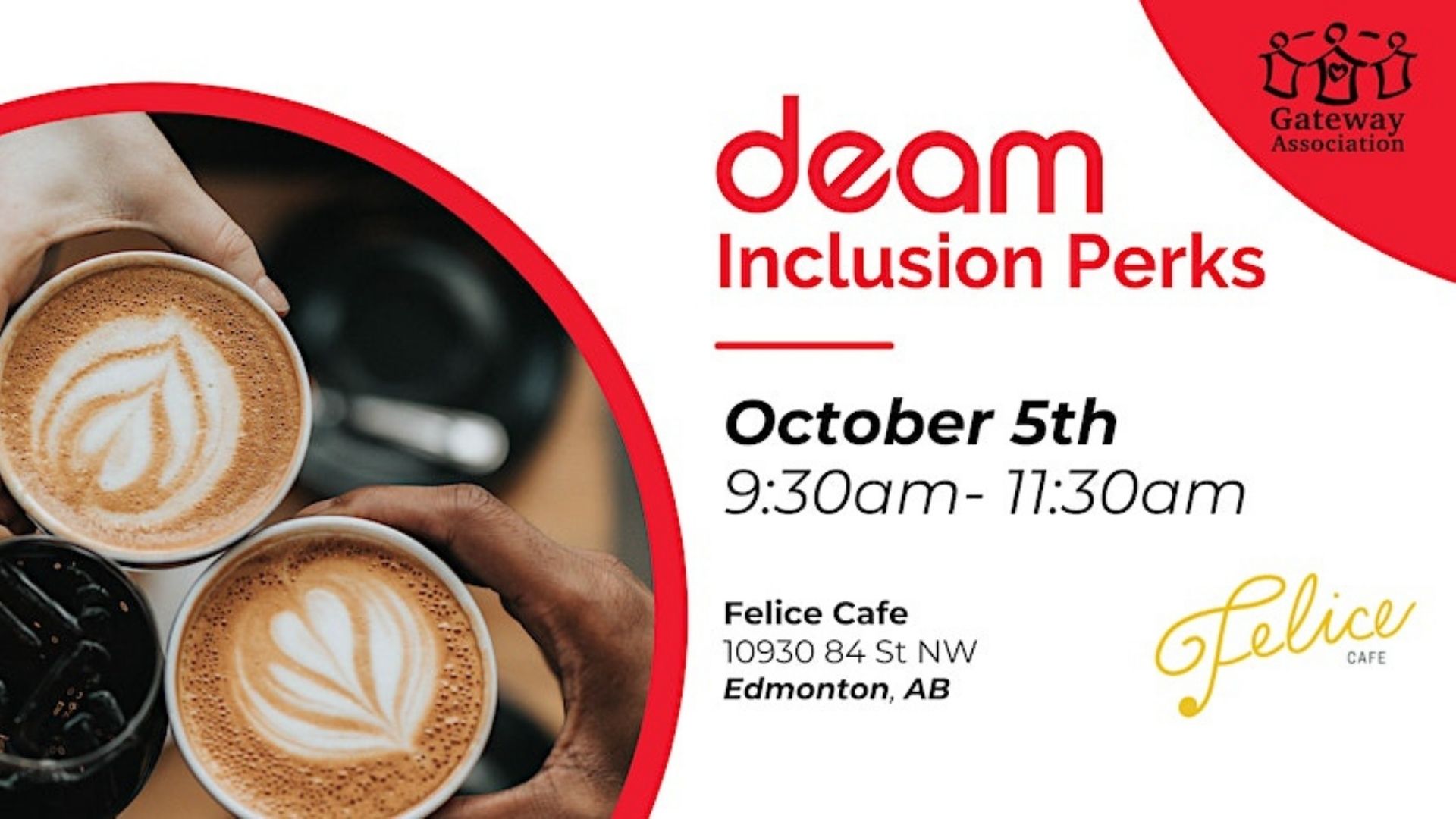 Inclusion Perks
October 5, 2023
Inclusion Perks is a casual opportunity to bring employers, service providers, and job seekers together to connect about inclusive practices in the workplace, learn about the supports and services Gateway offers, and to show support for DEAM.
Join us on October 5th, at Felice Cafe from 9:30am – 11:30am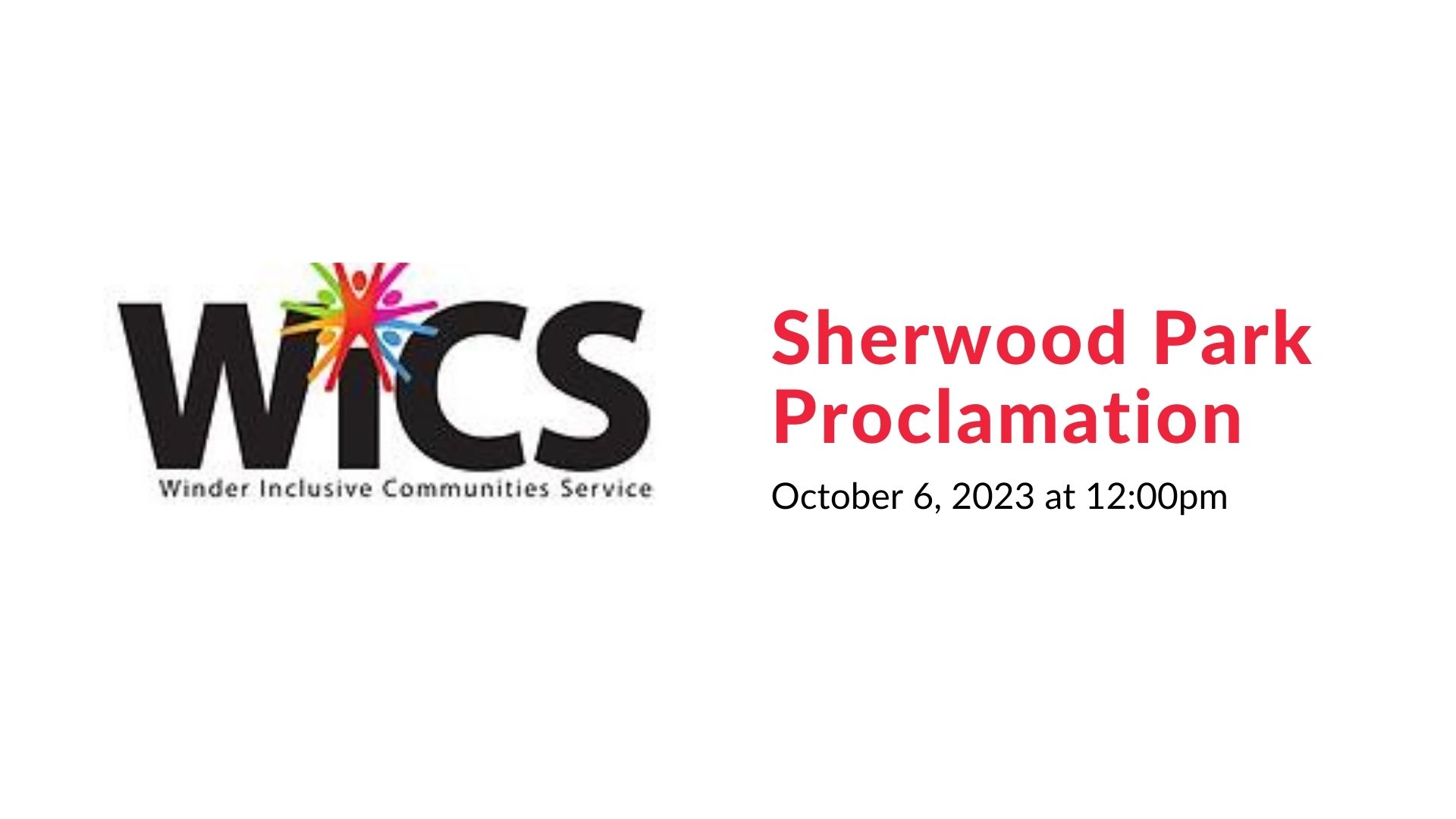 WICS Sherwood Park Proclamation
October 6, 2023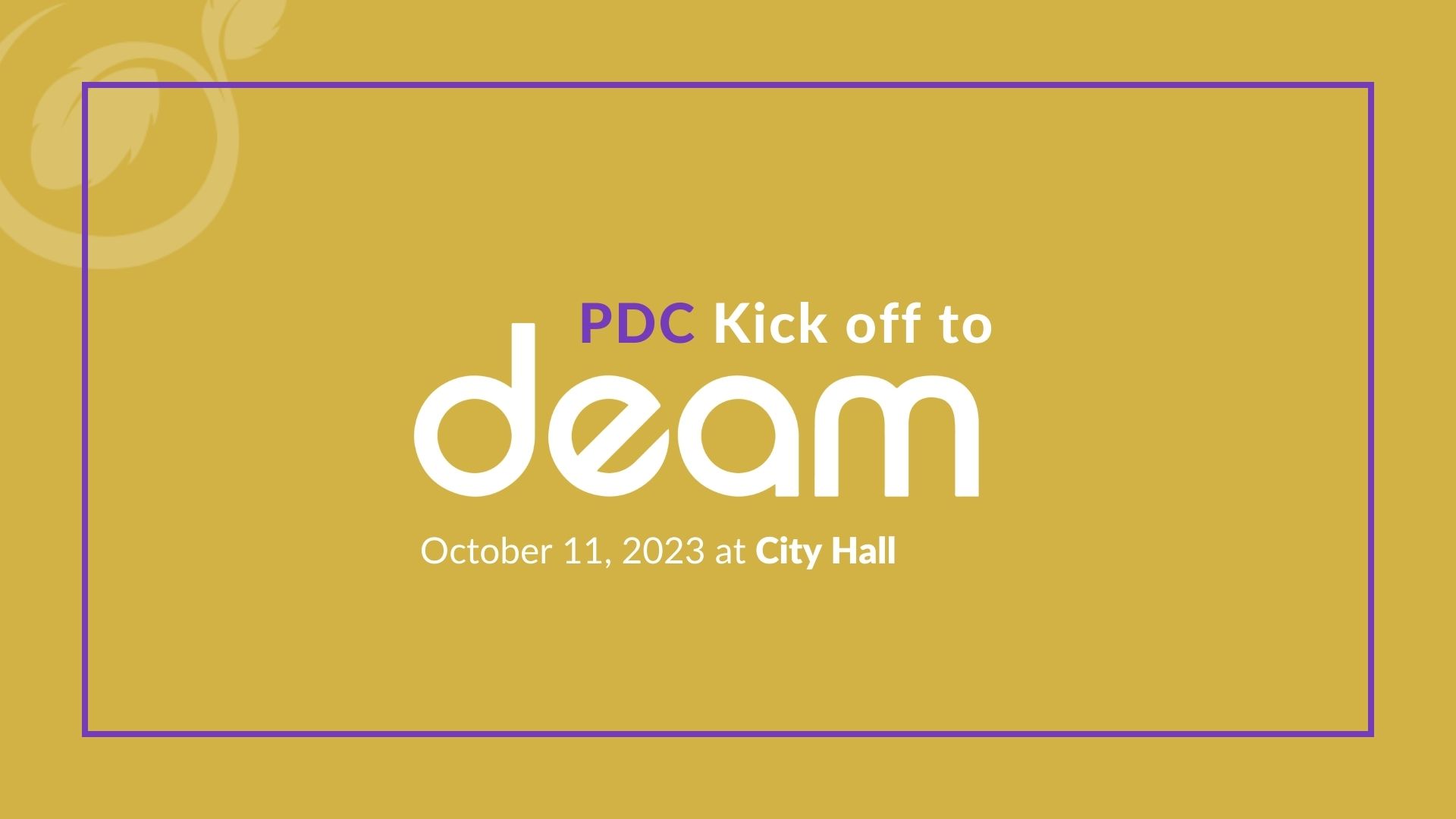 PDC DEAM Kick Off + Rally
October 11, 2023
The PDC DEAM kick off event is on October 11, 2023 at City Hall from 10:00am – 11:00am with a rally to follow at 12:00pm.
Advocate for meaningful employment opportunities for person with disabilites. Complimentary signs will be provided or bring your own signs!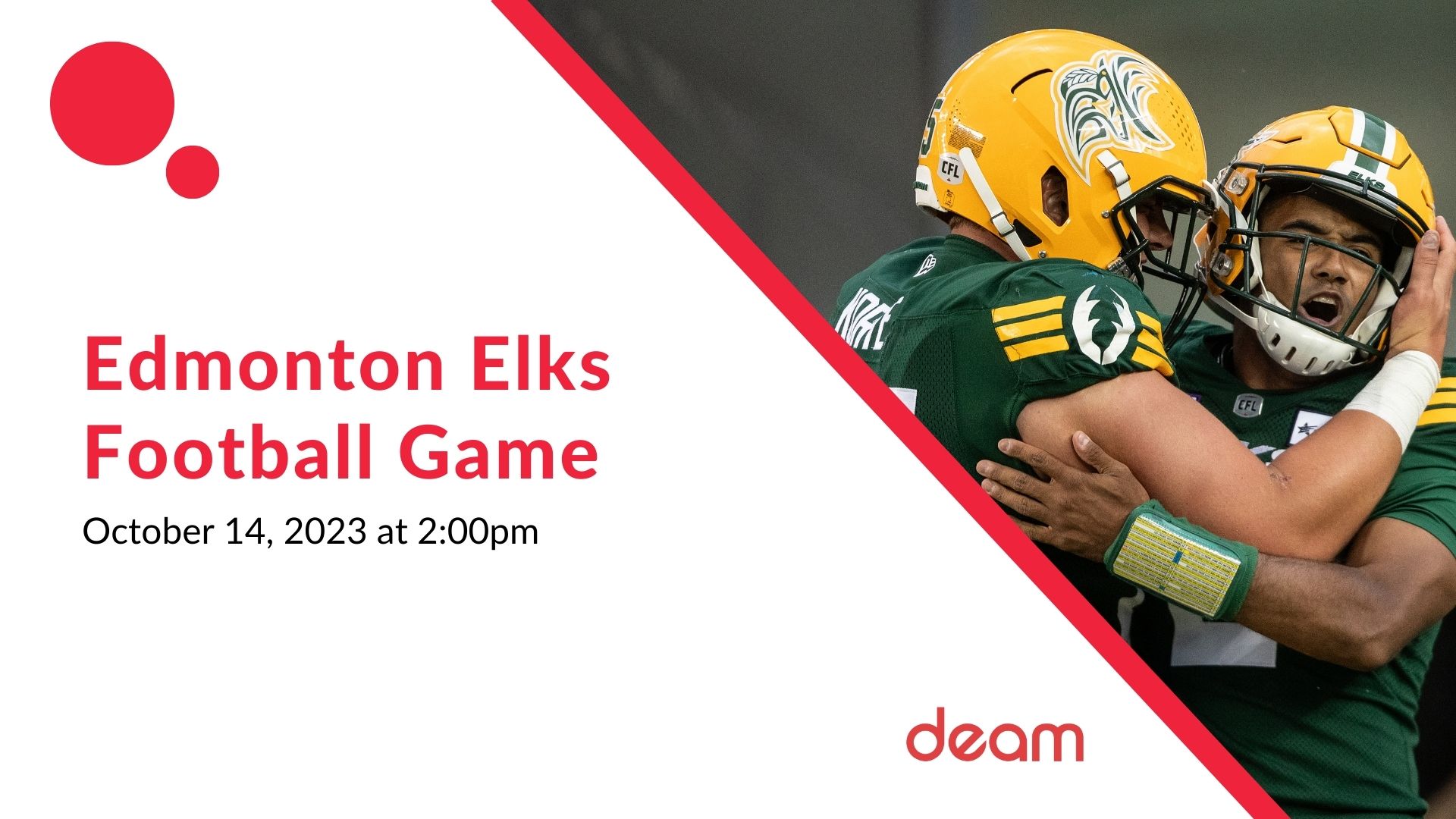 DEAM Edmonton Elks Football Game
October 14, 2023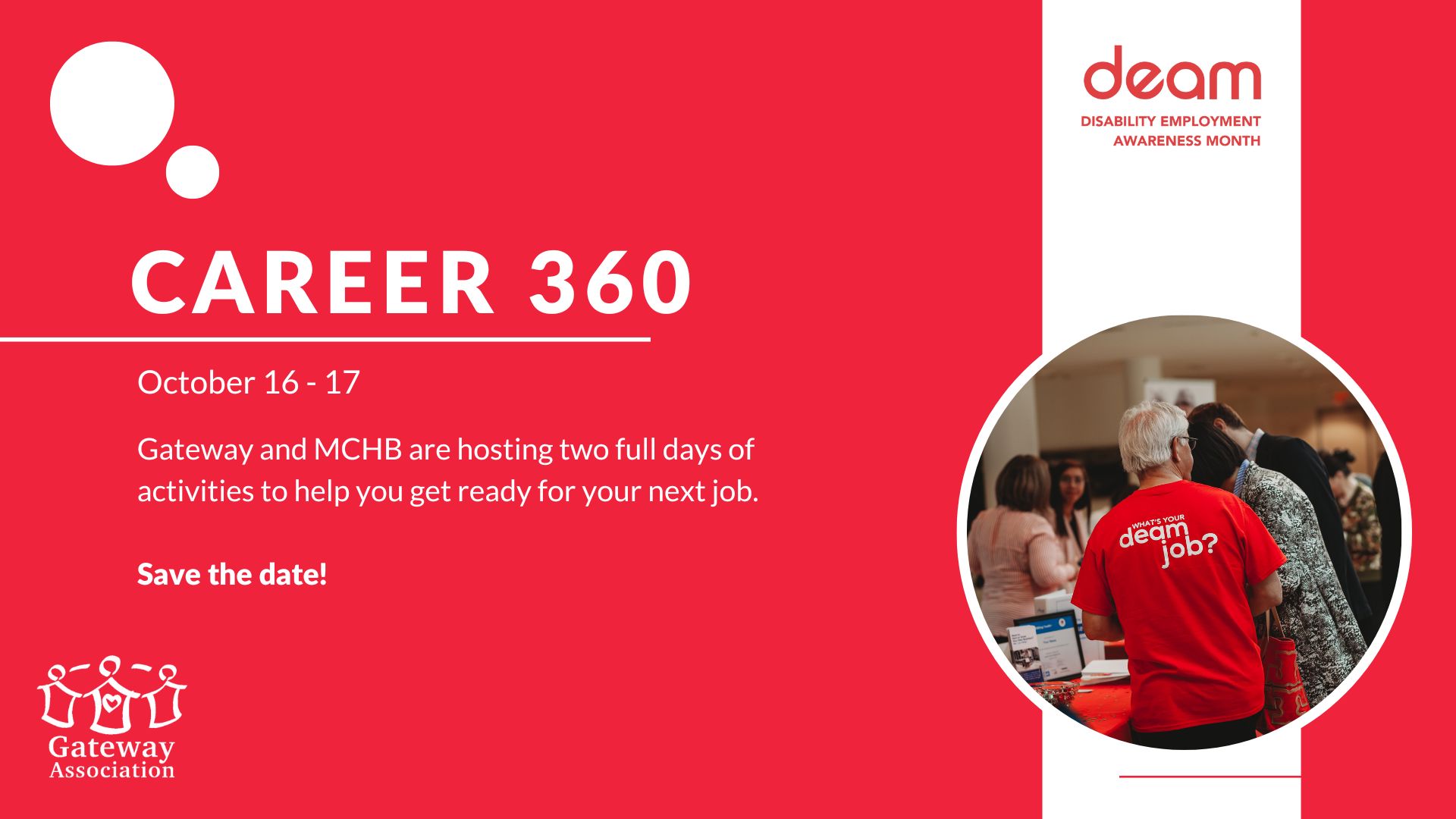 Gateway Association Career 360
October 16-17, 2023
Gateway Association Alberta and Multicultural Health Brokers are hosting two full days of activities to help you get ready for your next job.
We will help Job Seekers create or update resumes, practice interview skills and connect with inclusive employers, while employers can learn more about inclusive practices, talk to the experts, and find new employers.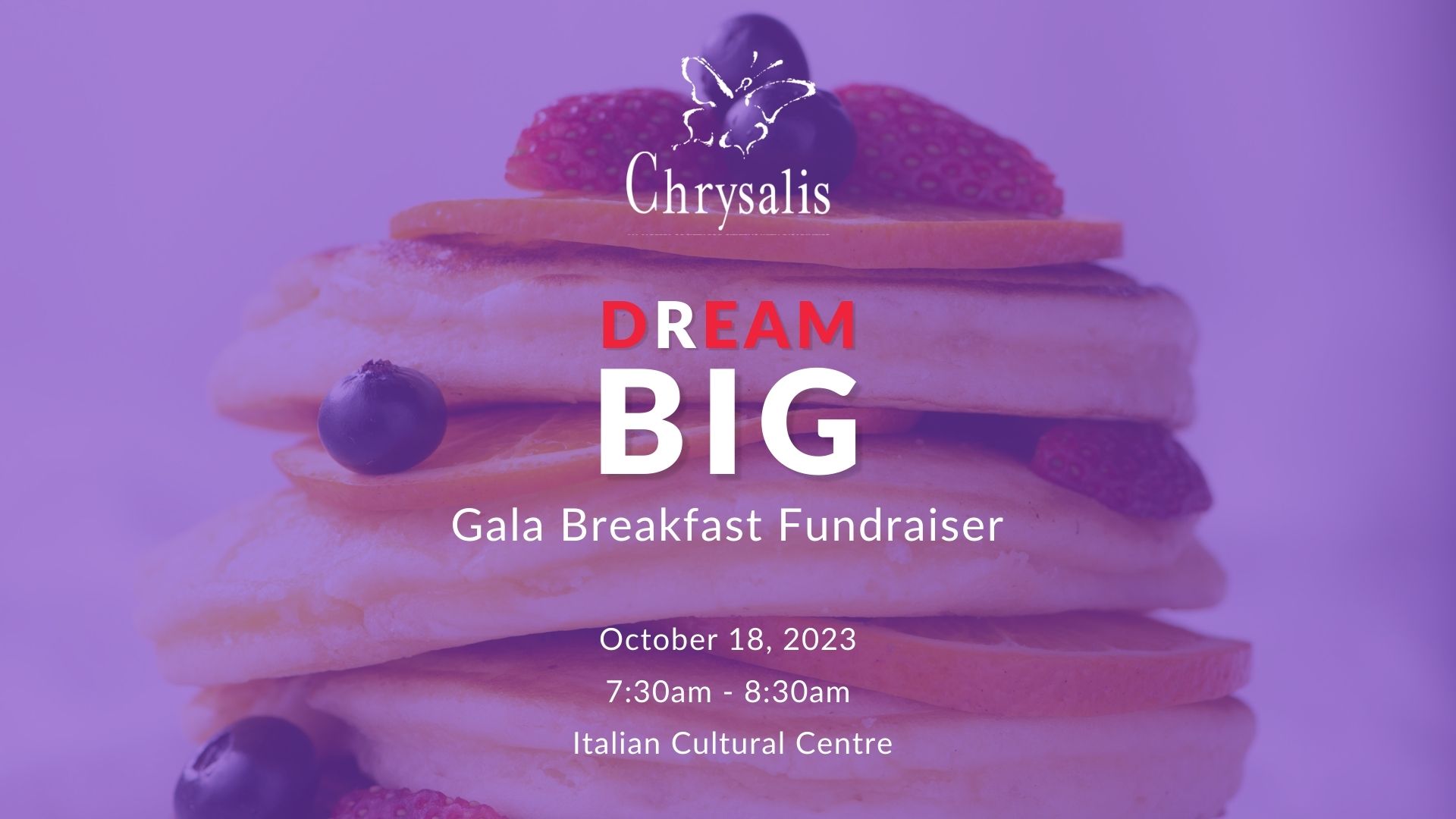 Chrysalis DREAM Big Breakfast Gala
October 18, 2023
Chrysalis's 20th Annual Fundraising Breakfast is back! This year's theme is 'Dream Big: Ignite Change, Growth, and Opportunity for People with Disabilities' and aims to honour the month of DEAM.
This inspiring event will be held at the Italian Cultural Centre on October 18, 2023 from 7:30am – 8:30am.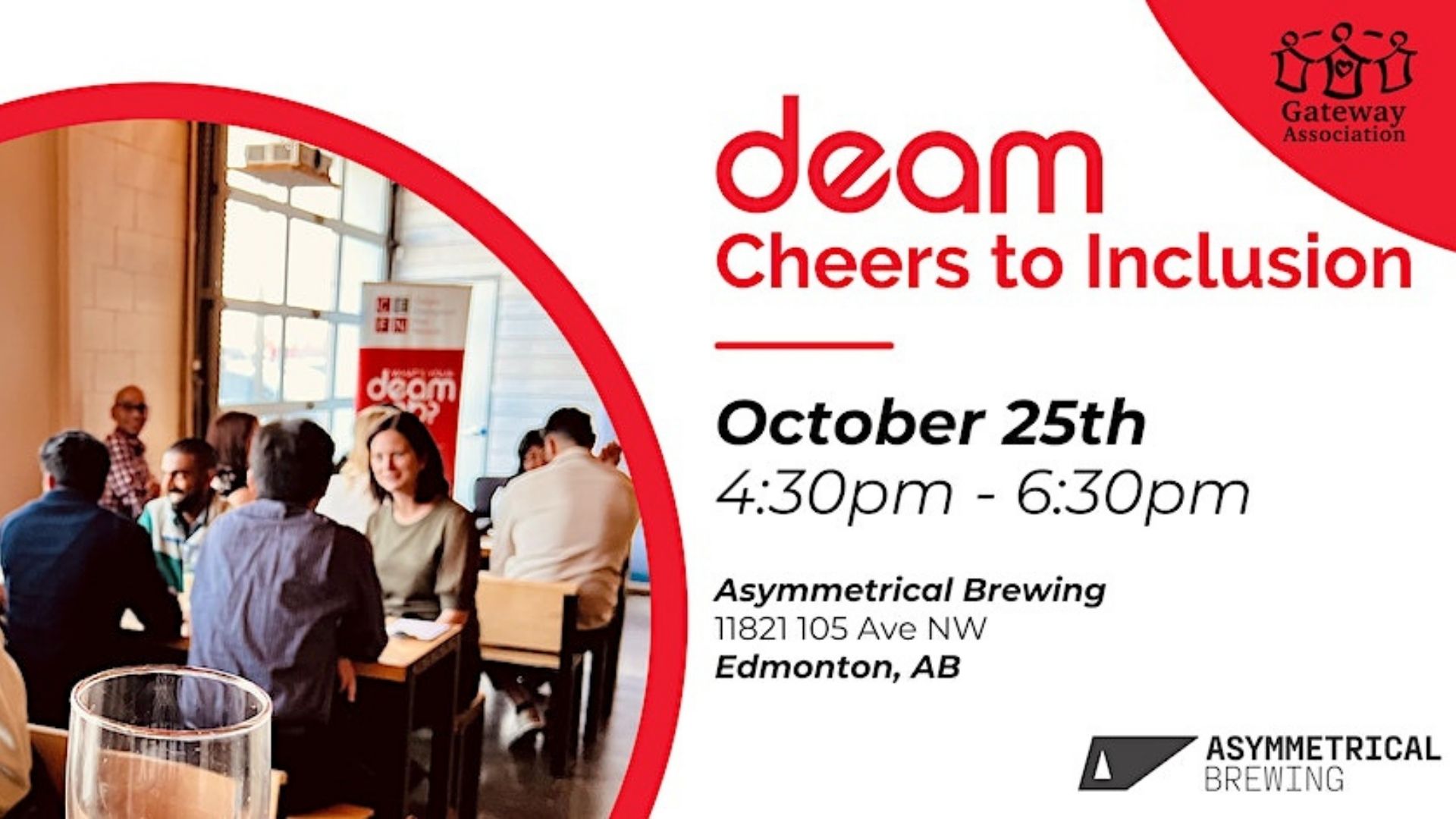 Cheers to Inclusion
October 25, 2023
Cheers to Inclusion is for employers at any point in their inclusion journey, service providers, self-advocates and community members who want want to connect about creating more accessible and inclusive workforces and communities for persons experiencing disability!
Join us on October 25th at Asymmetrical Brewing from 4:30pm – 6:30pm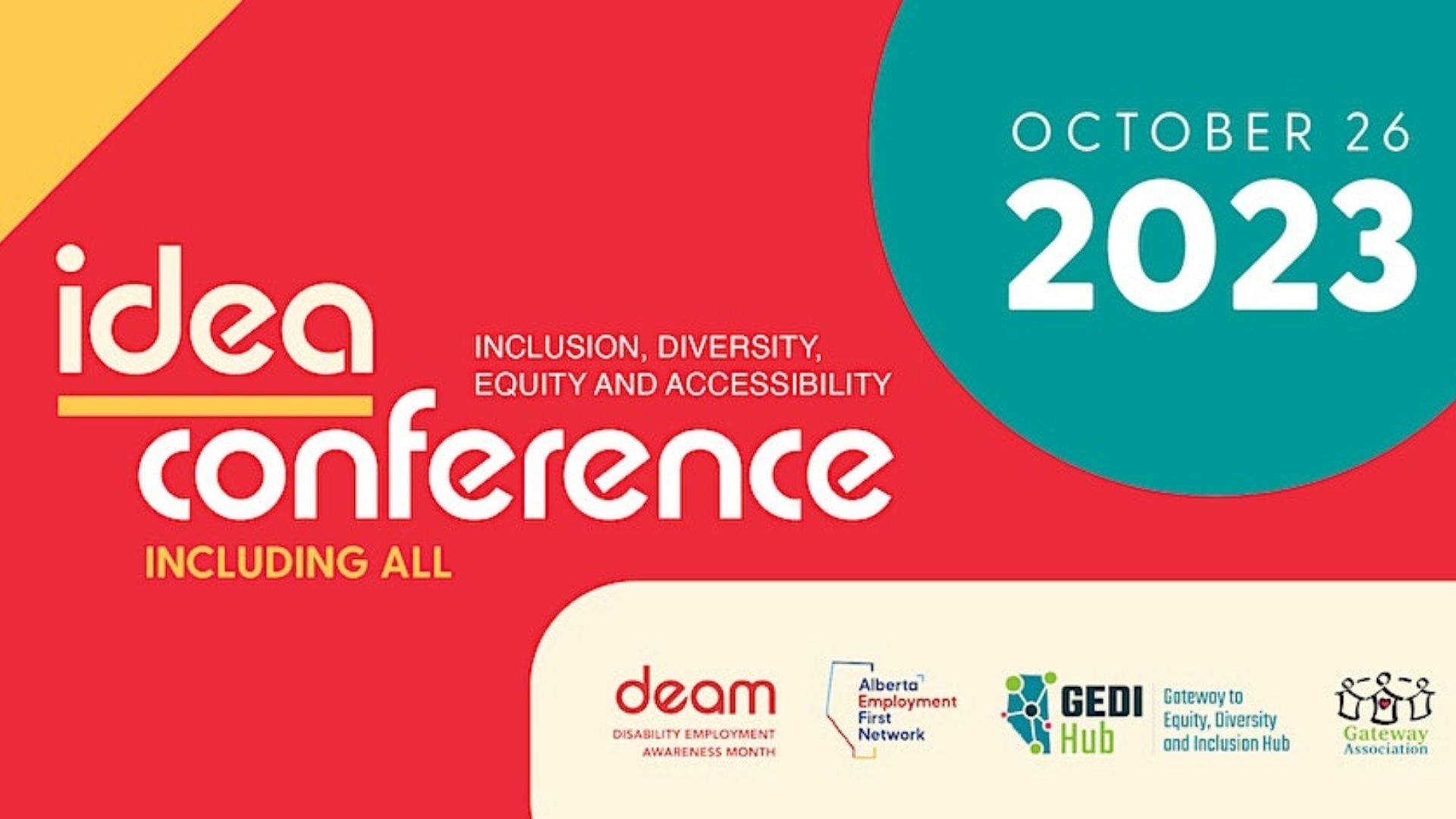 IDEA Conference
October 26, 2023
This one-day conference will provide attendees with the opportunity to build upon their knowledge of inclusive and supported employment and recruitment. In addition, topics such as intersectionality, equity and "disability as a diversity" will receive further examination.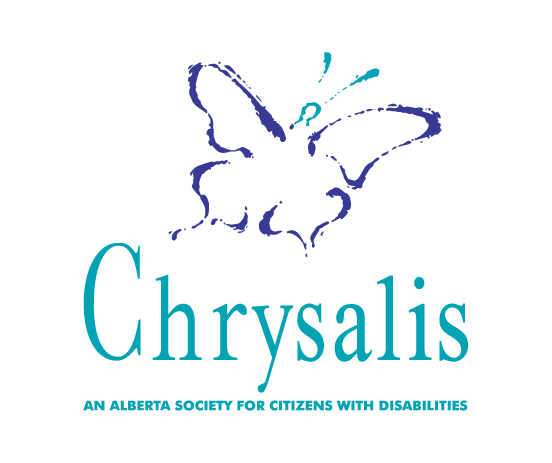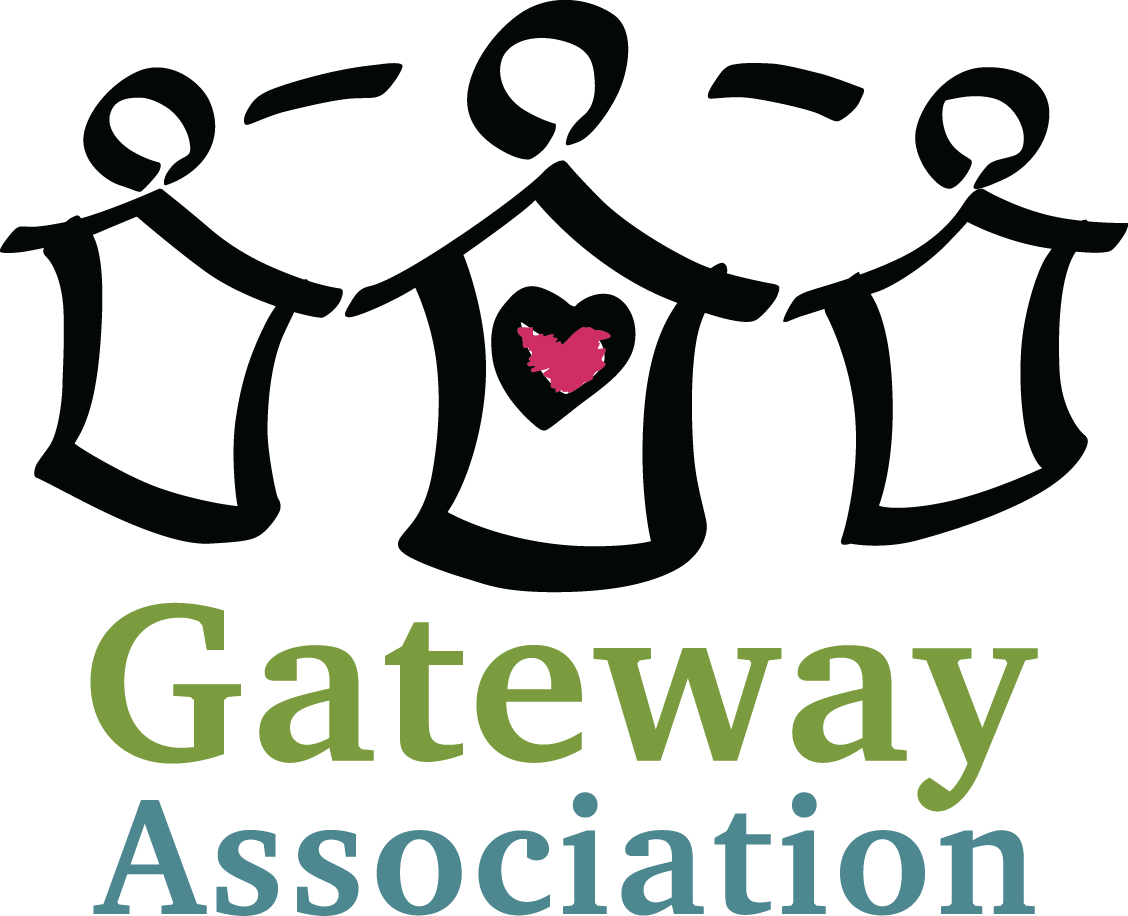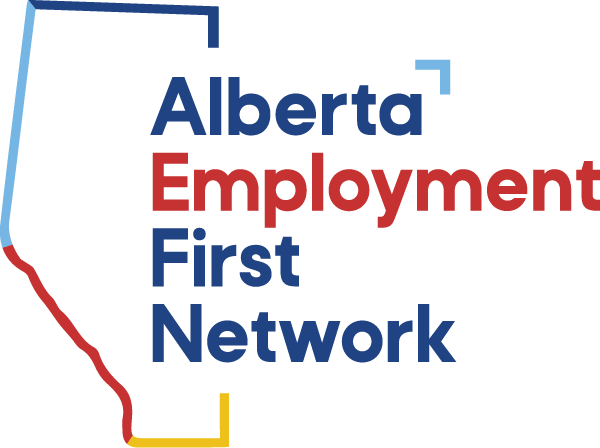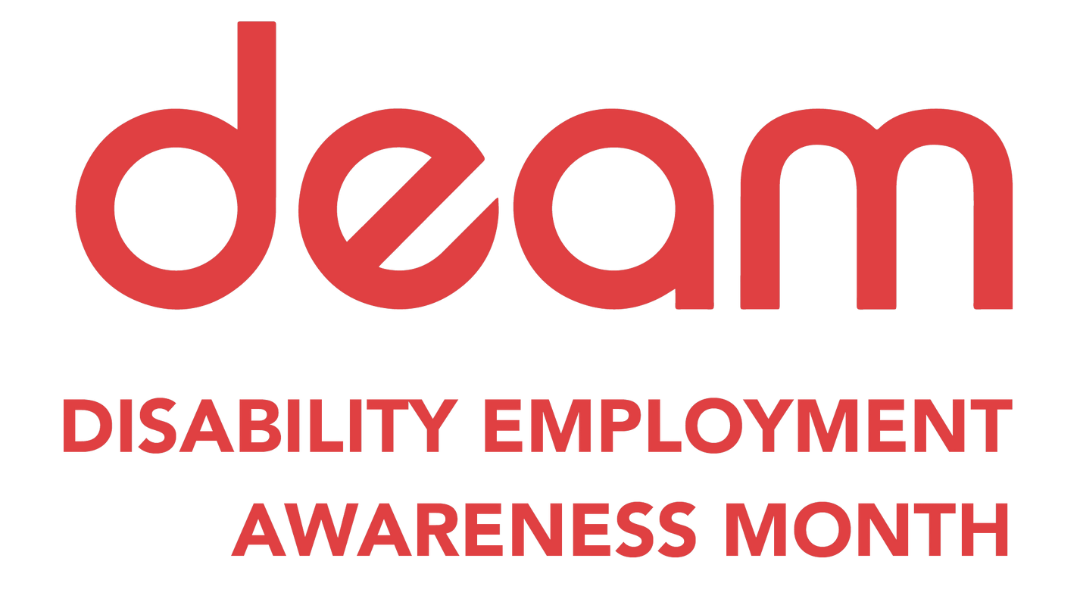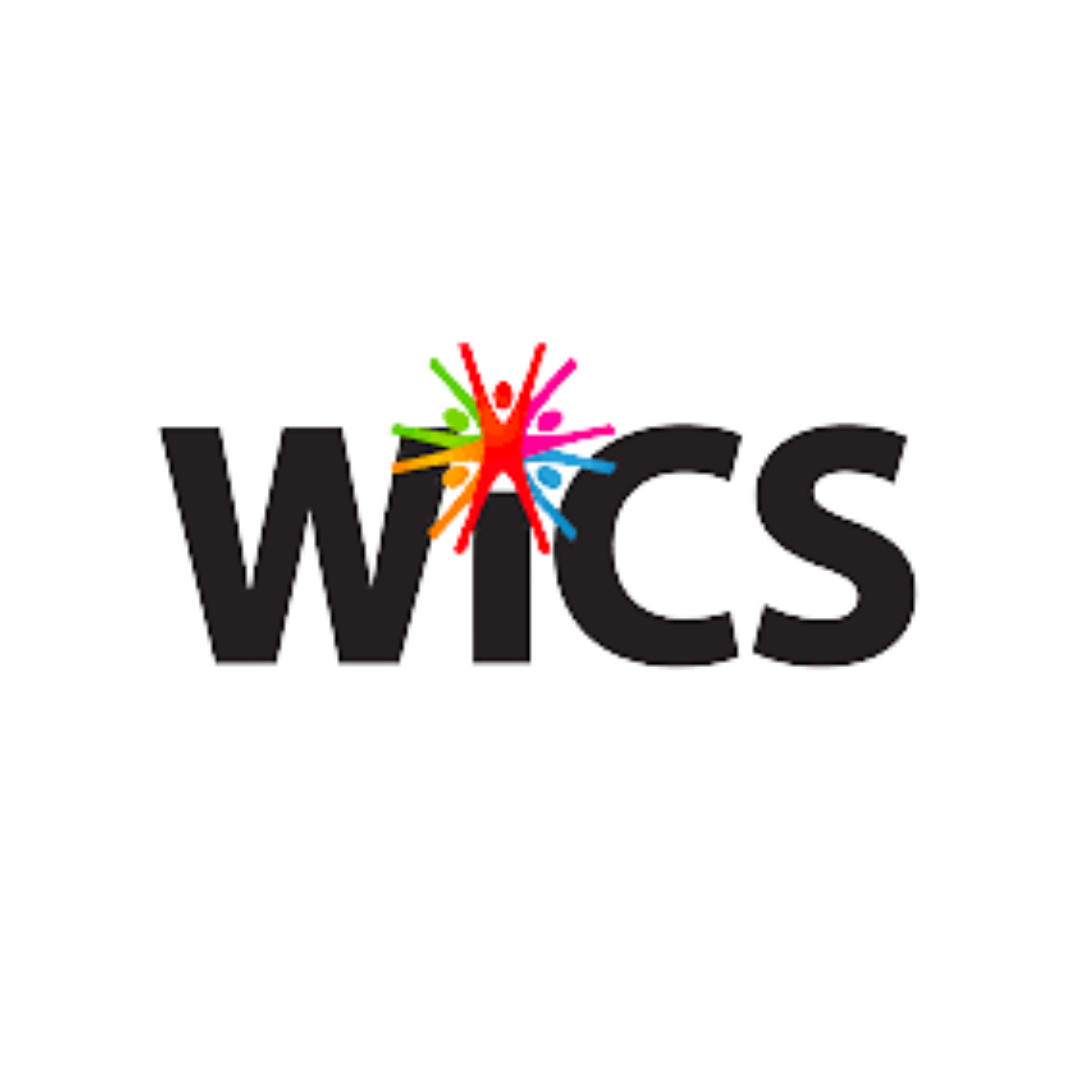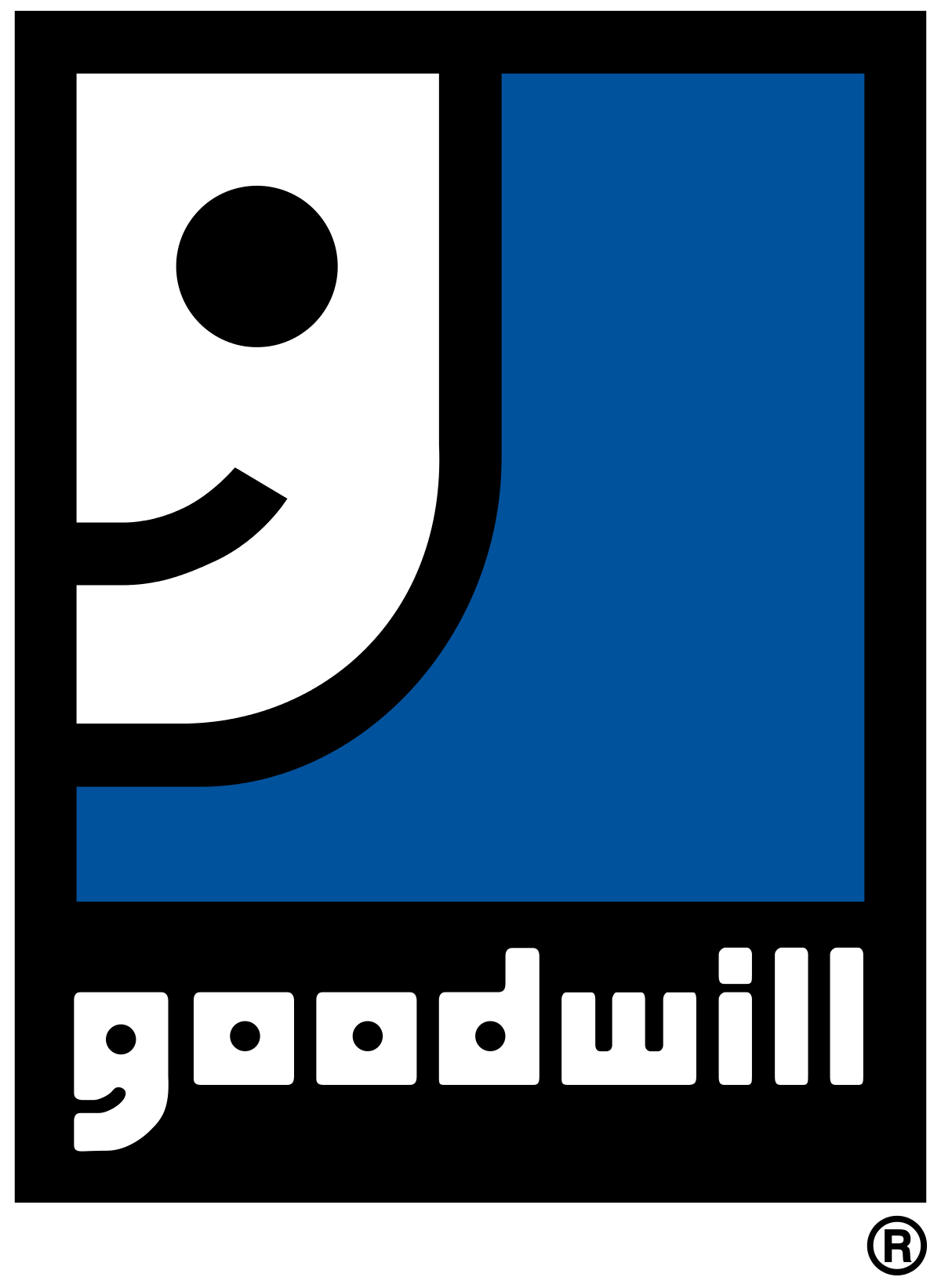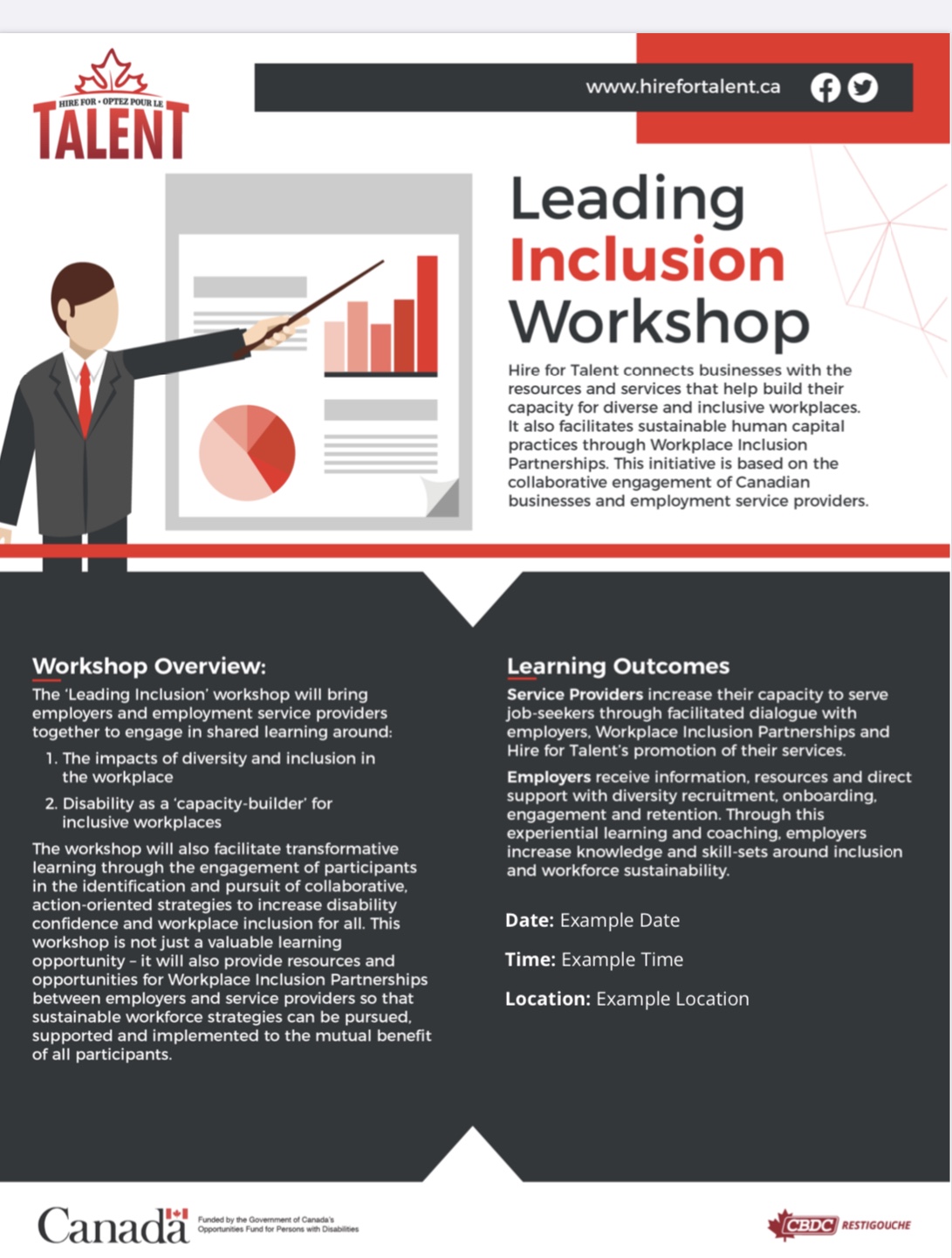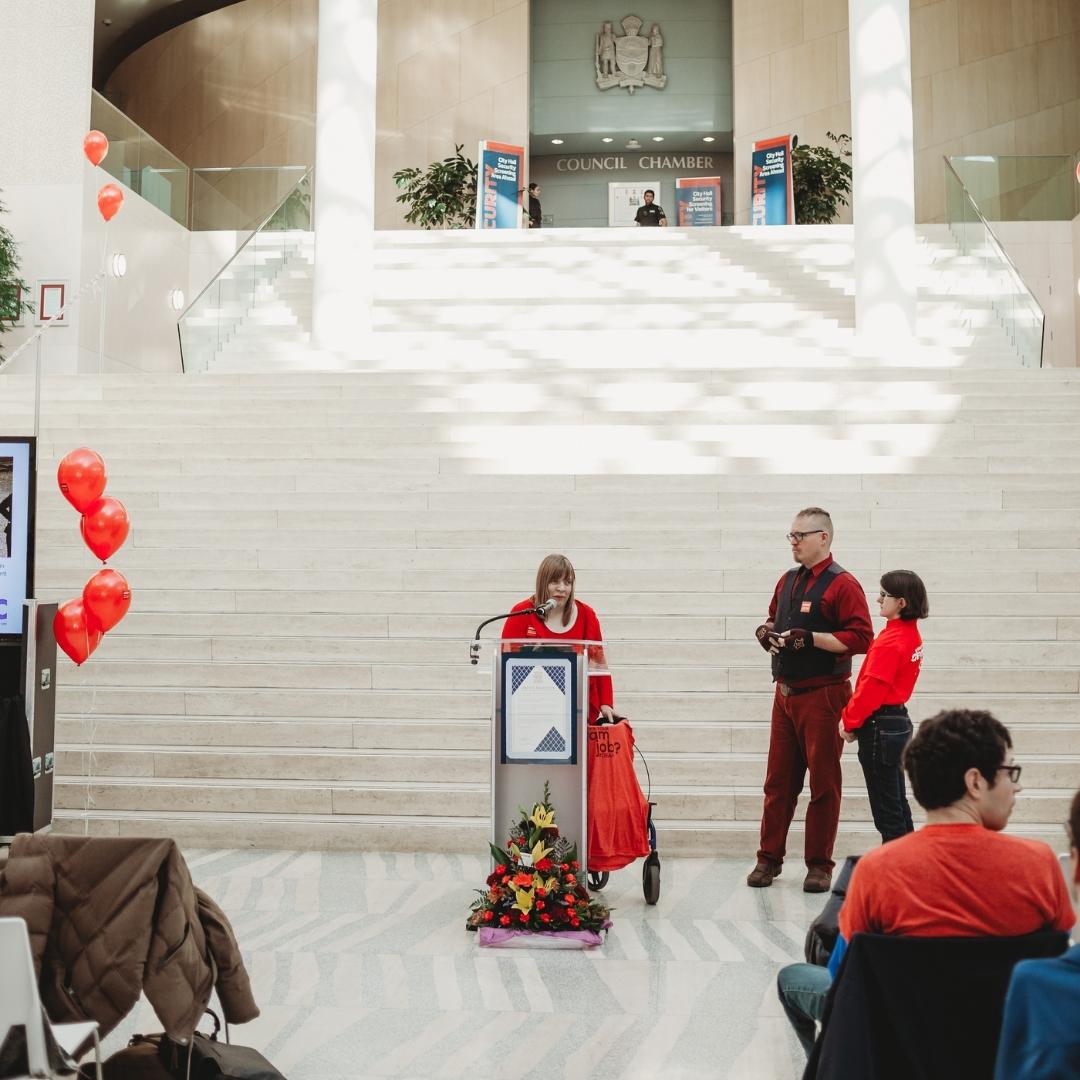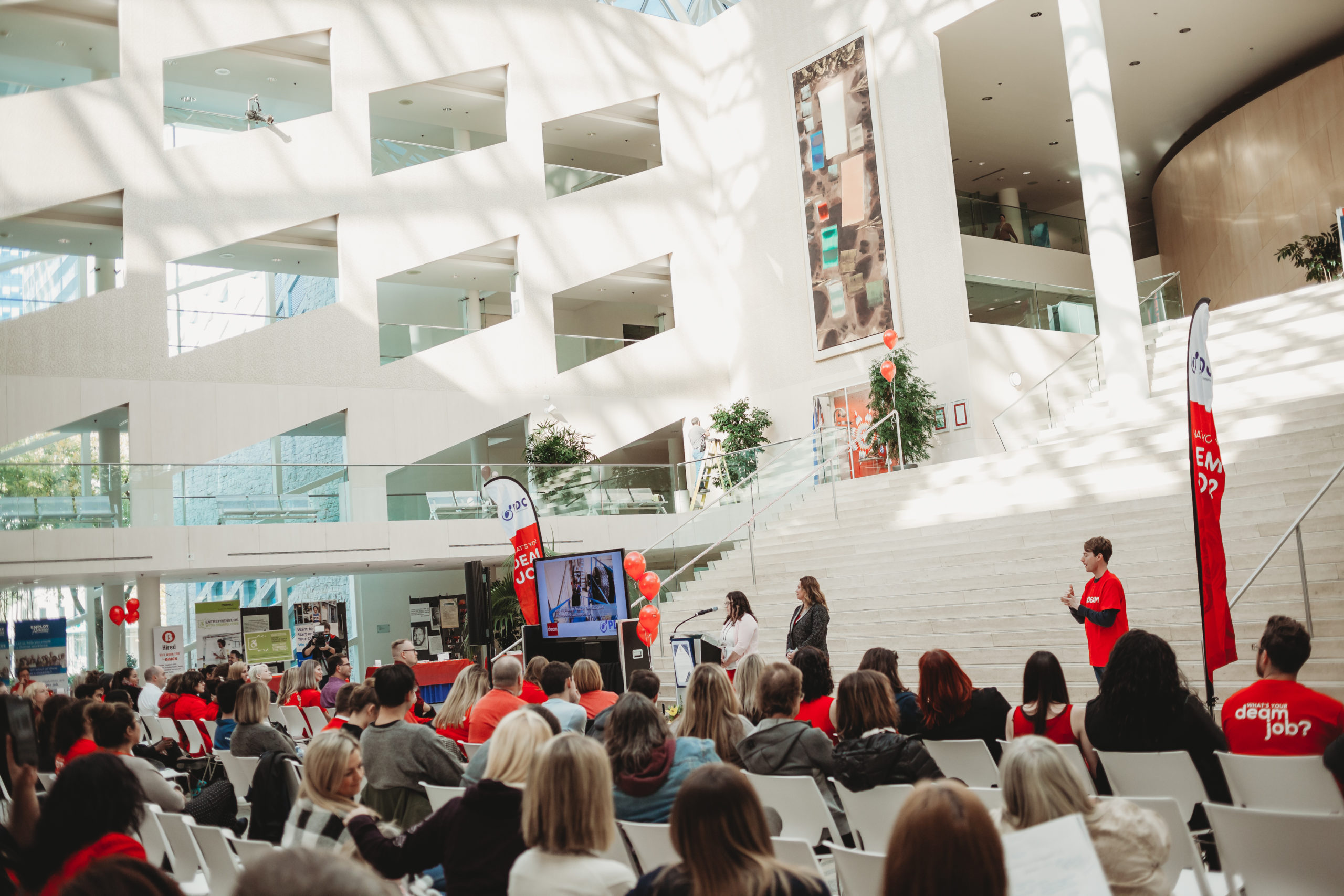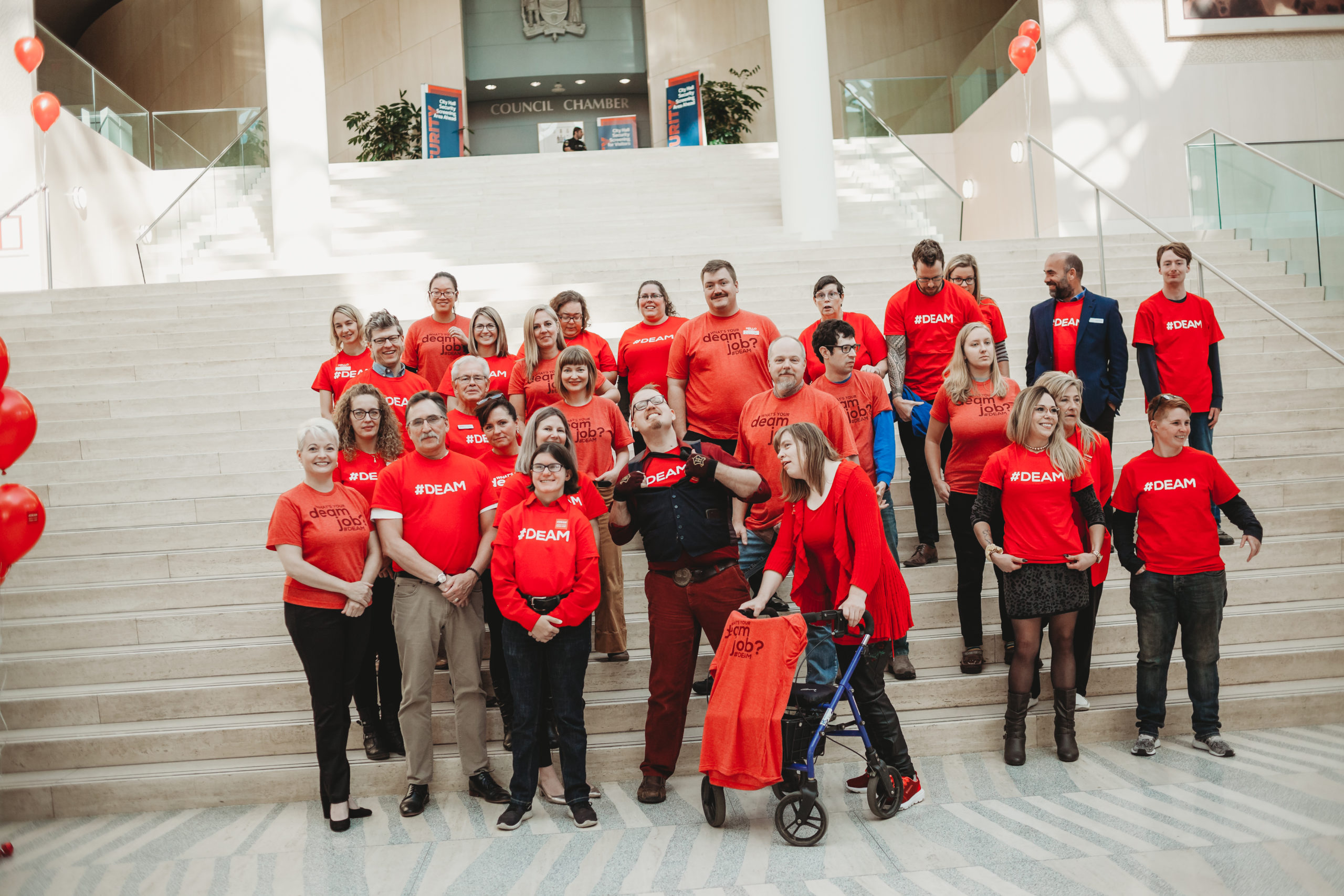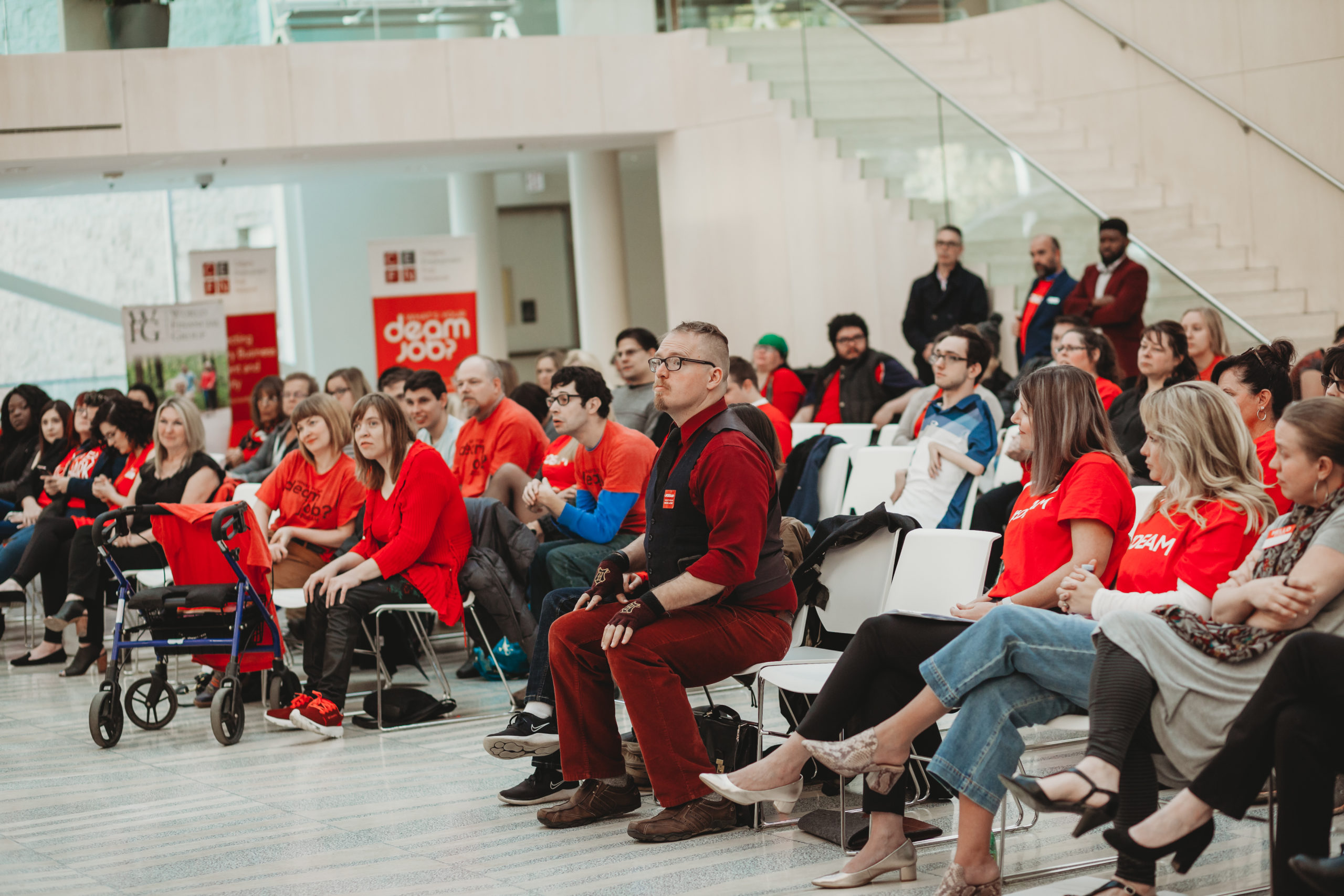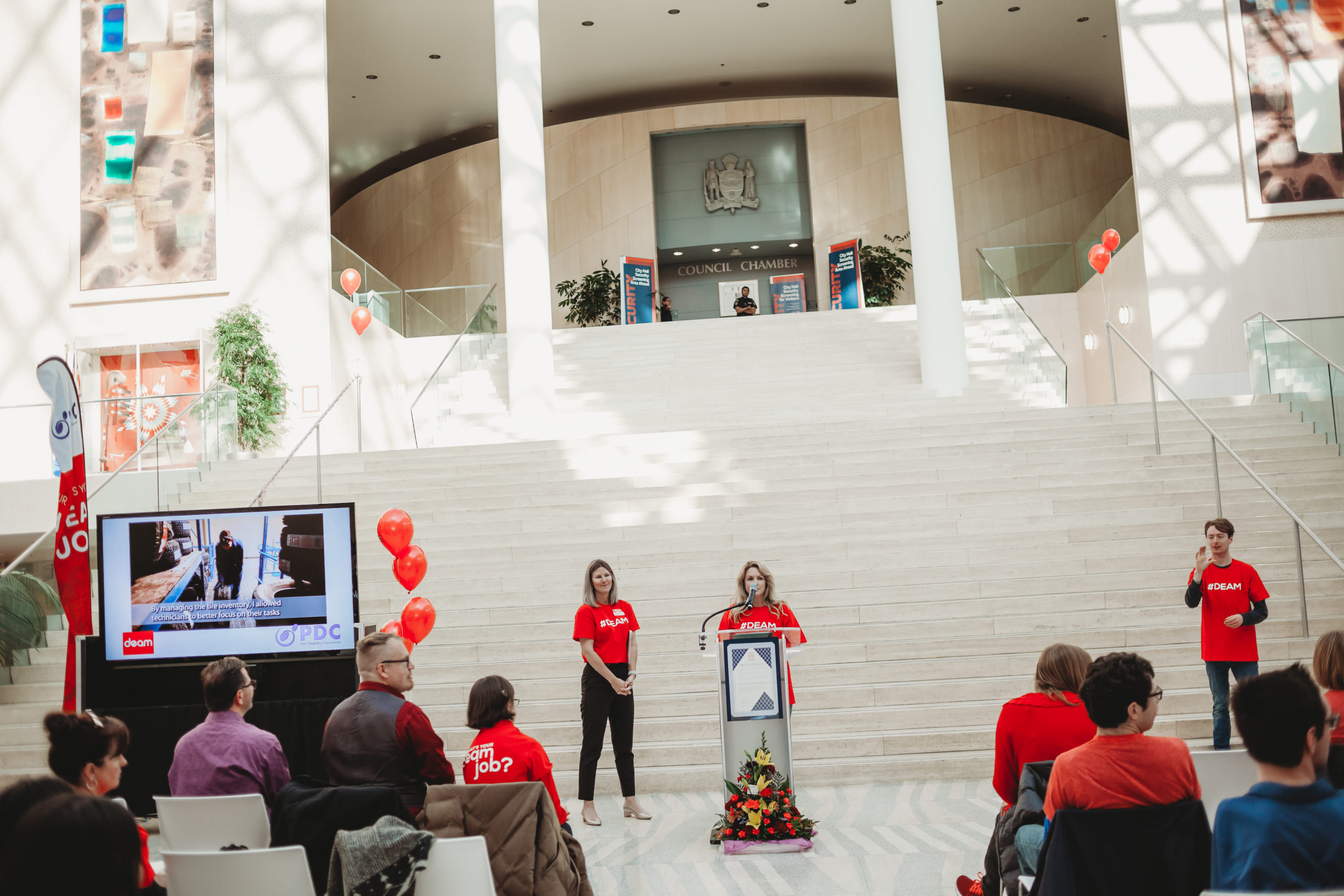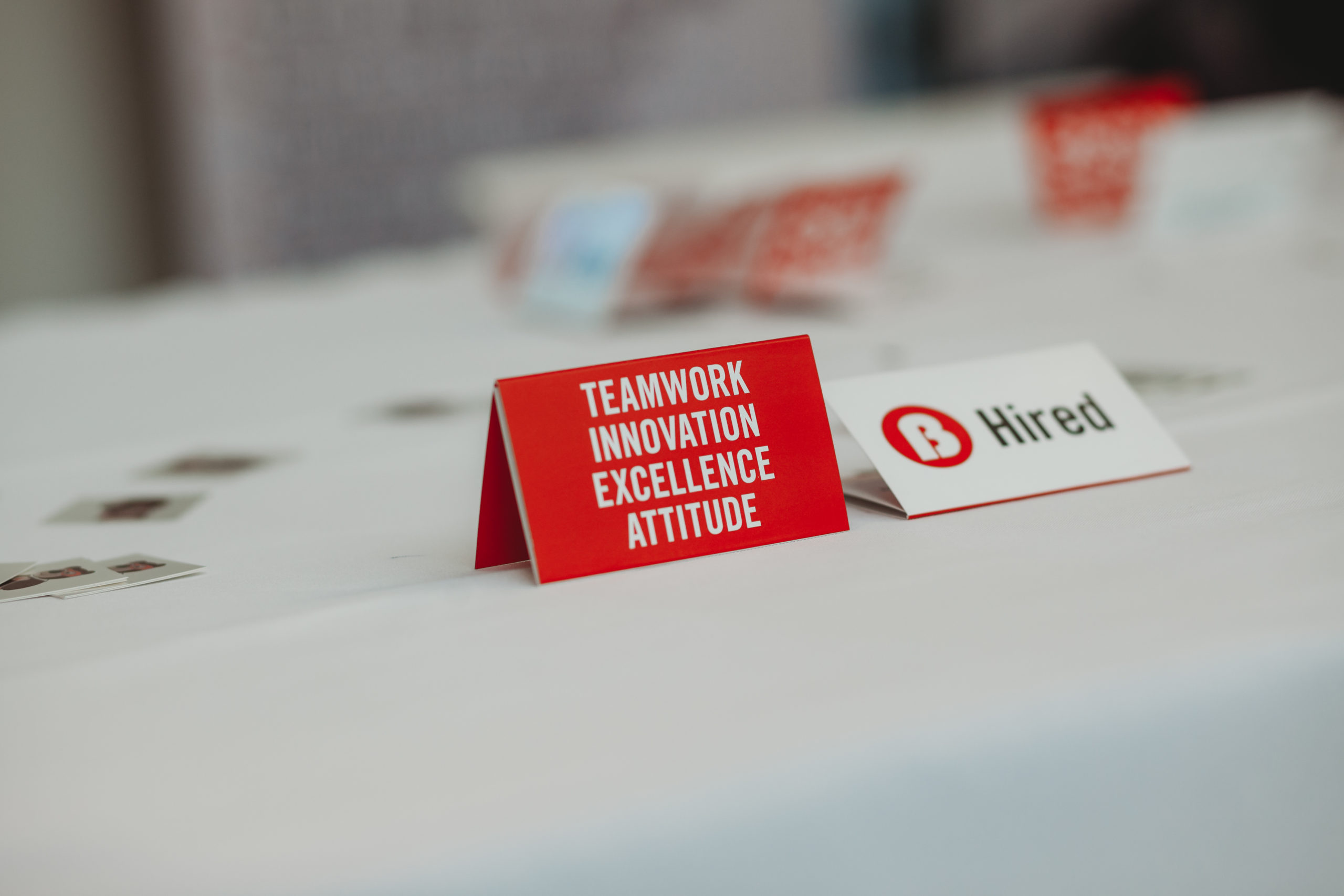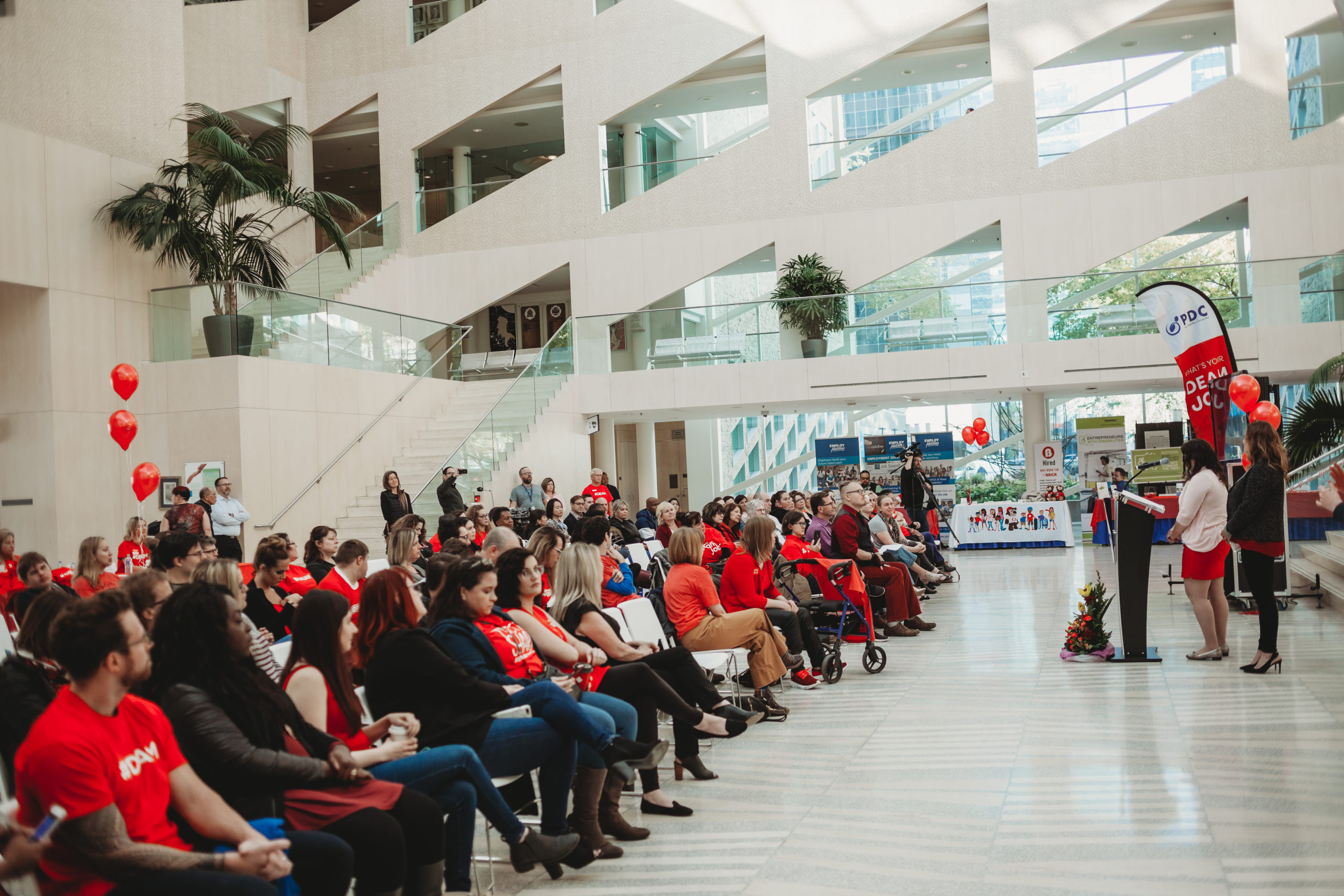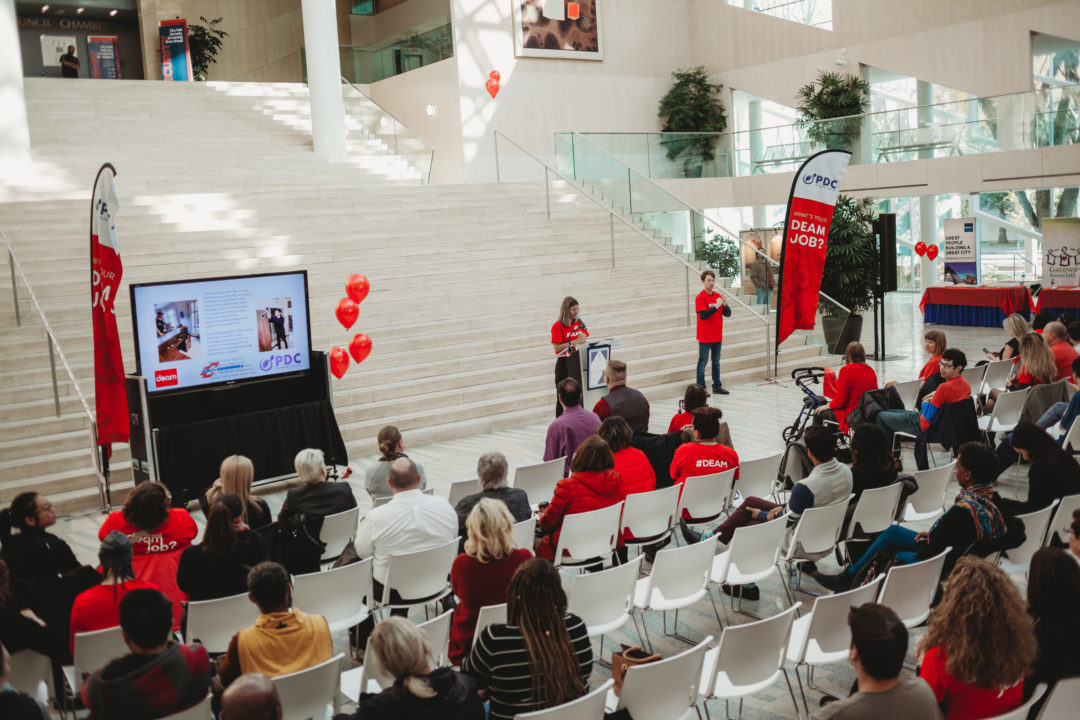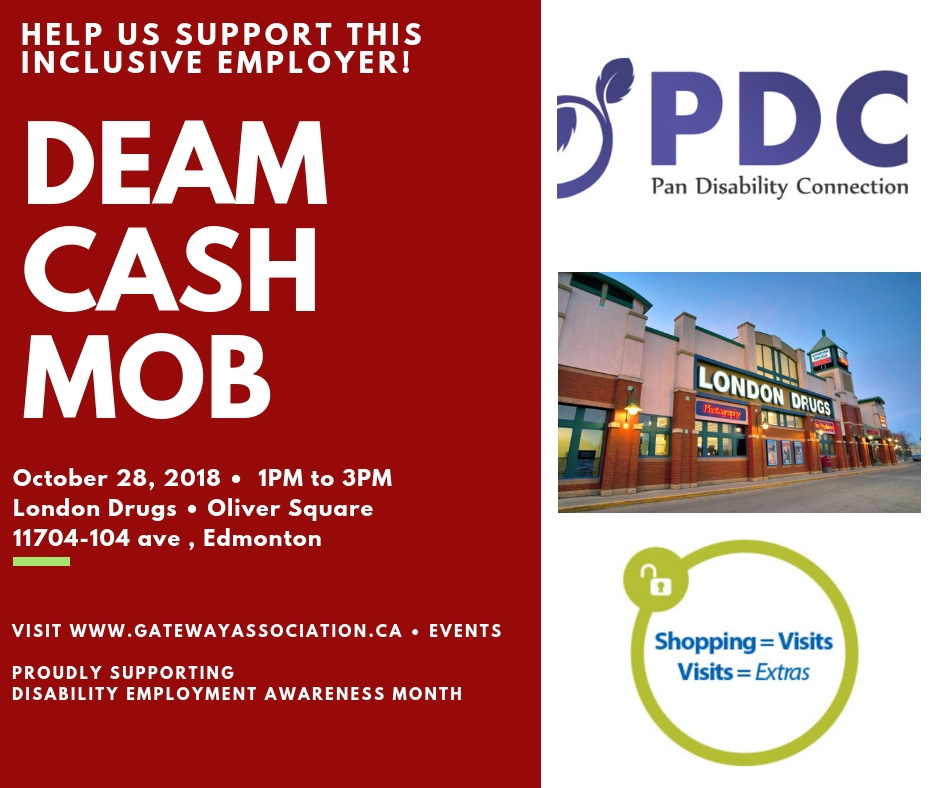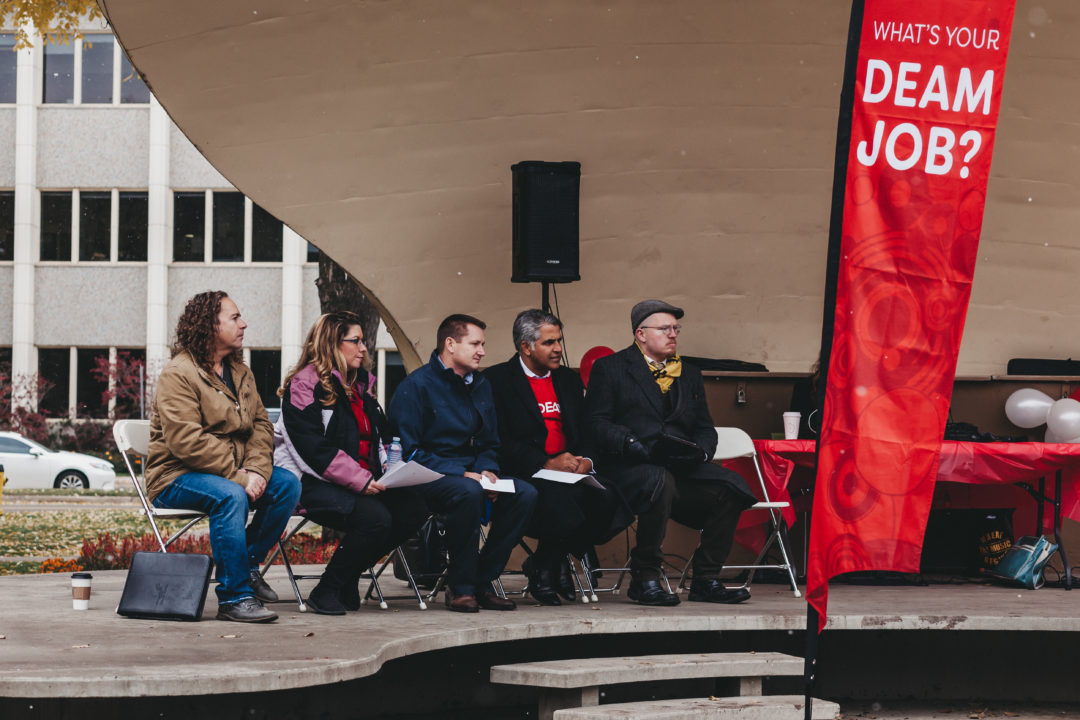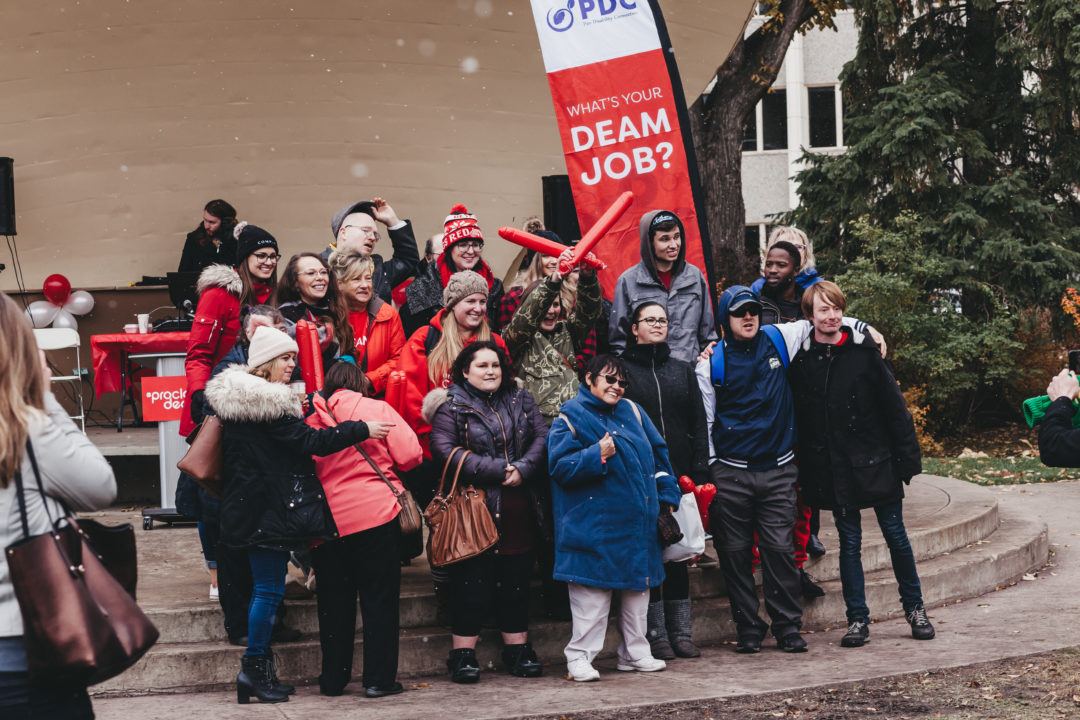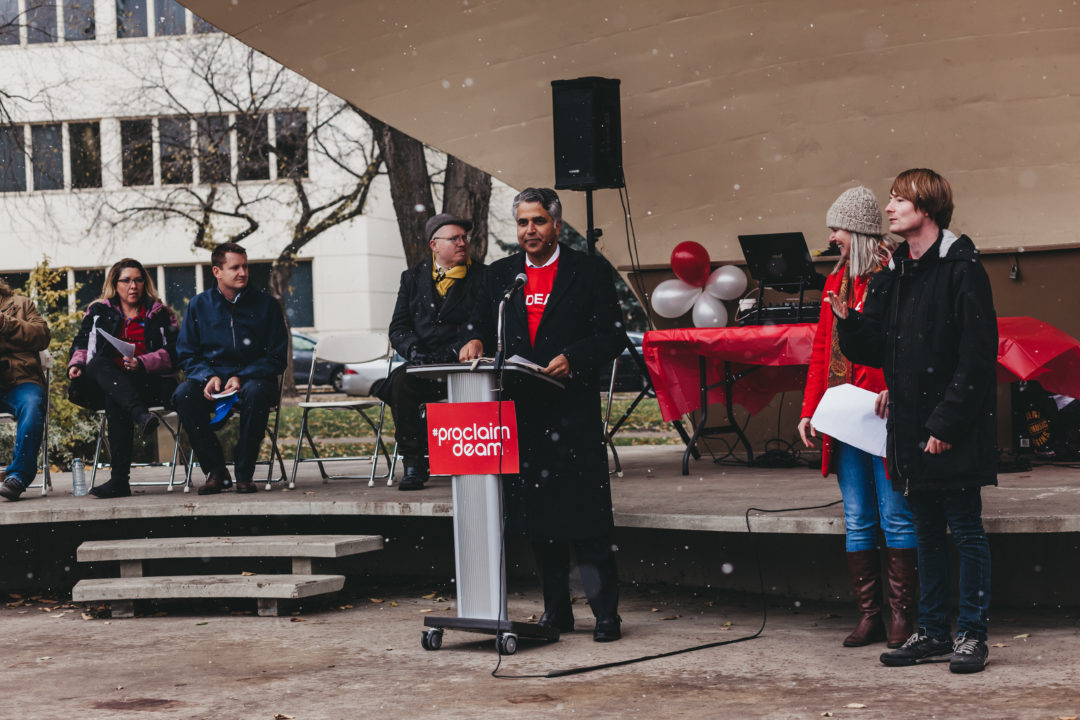 What is a Cash Mob?
Cash Mob = People who assemble at a local business to spend money and make purchases in support of that business and community.
Why do it?
The goal of this campaign is to reward forward-thinking businesses that value diversity and inclusion, and employ people with disabilities in meaningful, paid roles. We hope to inspire other employers to consider hiring inclusively.
How does it work?
It's EASY! Show up at the selected employer cash mob location on the right date at the right time and spend some money! Your contribution (little or big) will help demonstrate our support towards inclusive hiring.
The selected business where the cash mob will be held is London Drugs, 11704 104 Ave NW, Edmonton, AB T5K 2T6, Canada
This is a great opportunity to come do some last minute Halloween shopping!
Hope to see you all there.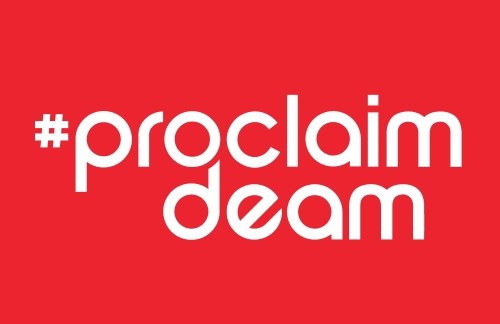 Disability Employment Awareness Month (DEAM) is an annual awareness campaign that takes place each October. The purpose of DEAM is to promote employment inclusion for people with disabilities and celebrate the many and varied contributions of workers with disabilities. DEAM, is gaining traction in Canada with a growing number of provinces proclaiming October as Disability Employment Month. We want to spread the important message that a strong workforce is one inclusive of the skills and talents of all individuals, including people with disabilities. DEAM is an excellent opportunity for Employment Service Providers and Canadian Employers to demonstrate their ongoing commitment to Canadians with disabilities and to help promote employment inclusion in our country.
Last year we called on the Government of Alberta to issue a formal Provincial Proclamation of October as Disability Employment Awareness Month. We realized that in partnership with the Government of Alberta, inclusive employment becomes a priority. We're proud to announce that through the efforts of CEFN (Calgary Employment First Network) and the PDC (Pan Disability Connection Edmonton), ACDS (Alberta Council of Disabilities Services), ADWA Alberta Disability Workers Association) and EmployUs that in 2018:
The Month of October will be Proclaimed DEAM! Celebrate With Us!
We want to spread the important message that a strong workforce is one inclusive of the skills and talents of everyone, including individuals with disabilities. We are holding a public celebration to support the Launch of DEAM.
Come join other Inclusive employers and service providers at the south band shell on the SE corner of the legislative grounds on Oct 1st from 11:30 – 1:30 pm
We will have food-trucks, entertainment and brief messages of support from:
Irfan Sabir – Minister – Community and Social Services
Jason Pincock – CEO –DynaLIFE
Sean McEwen – Director – Calgary Alternative Support Services
Heath Birkholz – Self Advocacy Federation of Alberta
Carrie Rodgerson – Branch Manager, ATB Financial
DATS drop off and accessible parking are onsite. Paid Parking available at 96 Ave and 106 street). We are looking for a sea of red and white to show support! Consider dressing your team in our DEAM colors
Better yet! We have a limited number of #proclaimDEAM T-shirts available for purchase for the reasonable cost of $10. Contact us today!
For more information on DEAM events taking place around Alberta that you can participate in, please visit our Calgary Partner's website: CEFN-Disability Employment Awareness Month
Follow @pandisabilityconnection on Instagram